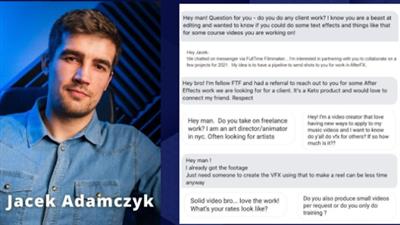 Jacek Adamczyk – Filmmaker's VFX Guide
Genre: eLearning | Language: English
Filmmakers who move smoothly in After Effects earn more
8 hours of jam-packed content
What's in the course?
Click on the heading to see the section contents ??
Object removal and fixing shots
Green screen and Replacement
Member Feedback
]

https://www.filmmakersvfxguide.com/

I know how frustrating it is to not make enough money as a filmmaker
I feel your pain, I've been there. I remember the days when I was refreshing my inbox several times a day to make sure I didn't miss any response from cold emails I have sent to potential customers. I felt invisible to them.
Right now, after I expanded my skill set and learned After Effects, I am the one who chooses projects I want to work with.