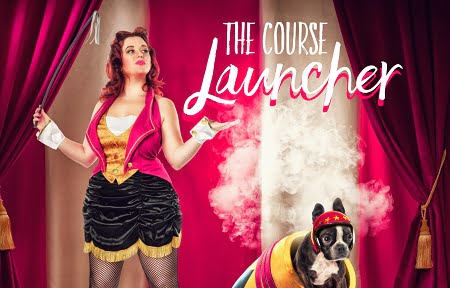 The Course Launcher With Jenna Soard | 3,42 GB
Wish you could clone yourself,
because while you want to get off that 1:1 client hamster wheel, you cant find time to make your first course and start profiting passively.
Arent quite hip to the current online sales world,
and things like webinars, sales funnels, and email marketing are a total mystery to you.
Need to embolden yourself with a delectable dose of confidence & clarity
around what youre doing (so youre not just blindly guessing about the right thing over and over again)..
Are terrified of choosing the wrong course idea
because you dont want to waste one more second of your precious time (or worse, creating a course no one wants) *GULP*
Have spent some serious time daydreaming about hurling your laptop
off the top of the nearest roller coaster than wrestle with technology.
Are patiently
sitting on the sidelines, twiddling your thumbs, and waiting until the cosmos align, your fairy godmother pops out of the bushes to give you new shoes, and everything is PERFECT.
HERES WHAT YOULL LEARN
Learn to survey prospective students the RIGHT way so you actually get responses (and feedback you can use)
Build out an in-demand course people cant stop bragging about to their friends
Create a landing page & beta tester application without banging your head against your desk or crying in the shower from tech frustration
Get your course into the hands of up to 15,000 amazing beta testers that will actually do the work!
Learn the basics of video production, screen recording, and editing so you can keep this momentum going, even after the 30-days course wraps up
Design interactive PDFs for course handouts so your students are engaged (and impressed)
Creatively direct an animation video bumper to add instant polish and professionalism to any videos you make moving forward
Setup your membership platform without getting so overwhelmed so you start mainlining chocolate truffles or begging your mailman for help
Structure your classroom in the most intuitive way for students so tech troubles or confusion dont get in the way of them taking your course, of course
Setup your email marketing system to prepare for your beta test so everything goes smooth as silk
Use templates to make the on-boarding process for testers super easy to save you time spent agonizing over the right things to say
Conduct new student surveys to gauge where you can optimize (and where youre already knocking it out of the park)
Learn the tech behind holding office hours so it stops being dauntingand starts being one of your favorite parts of running a course
Discover tried & tested techniques for facilitating Facebook groups to engagement and excitement shoots through the ROOF (and straight into the stars)
Develop your welcome email template and rest assured that youre always making a stellar first impression
Launch your pilot program to up to 100 beta testers to iron out the kink and ensure youre ready to LAUNCH
Lead your course with support from me & community so you always have encouragement, understanding, and advice, all at the click of your mouse
Implement end-of-course surveys to make improvements your students are fanatical for (and keeps em coming back for more)
Discover how to get students to send the most VALUABLE testimonials
Create an ideal student avatar based on real students so you have a clear picture of who youre selling to + can tailor your marketing to match
Screenshots