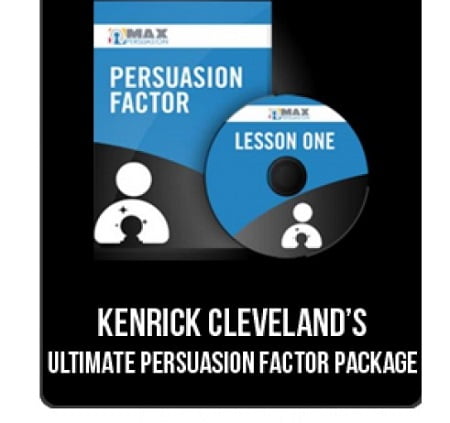 Kenrick Cleveland – Persuasion Factor | 6.00 GB
What is the Persuasion Factor?
If you want to install your message into other people's minds, then you are in the right place.
The 23 lessons (DOUBLED to 2 lesson delivered each month) included in the Persuasion Factor incorporate my 30+ years of studying and teaching persuasion skills – delivering my knowledge in easy to understand lessons.
This is my "Mona Lisa" of all the courses I have ever developed or taught.
It's the only Persuasion and Influence course of its kind..that uses Stat of the Art "Learning Sessions" to incorporate all learnings into your behavior.
What is a Learning Session?
Learning Sessions take advantage of special encoded sounds that put your brain into a learning state "Theta." It's in this state that we learn the easiest – and the reason when we are young children our brains are constantly in a theta state.
Not once, but TWICE A MONTH you will receive a new lesson that includes a learning session ($100 value). After you listen to the material you will be instructed to download the learning session onto your mp3 player, sit back and relax, letting me do the heavy lifting of integrating the material into your behavior.
It's one thing to just listen to a program and another to incorporate the skills so they become second nature, like tying your shoes..and that is exactly what these sessions will do for you.
*Learning sessions will also work with a light and sound machine – but one is not necessary. (if you don't know what a Light and Sound machine is don't worry)
Screenshots