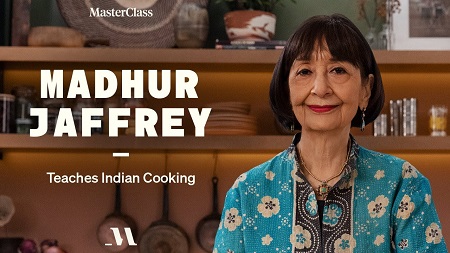 MasterClass – Madhur Jaffrey Teaches Indian Cooking
.MKV, AVC, 1920×1080, 24 fps | English, AAC, 2 Ch | 2h 26m | + PDF | 6.35 GB
With more than 30 award-winning cookbooks and a James Beard Foundation Cookbook Hall of Fame Award, Madhur Jaffrey may be the greatest living authority on Indian cuisine. Now she shares those vast and storied traditions with you. Learn 30 authentic recipes: vegetables, breads, South Asian meats, street foods, and more. Blend and layer spices and bring it all together—from the perfect bite to full menus of vibrant flavor.
Madhur Jaffrey grew up absorbing the sights, sounds, and flavors of India's deep culinary traditions with her family and as she ventured to the country's unique and diverse villages and regions. She's spent the past five decades sharing those stories and recipes with a global audience, crafting more than 30 cookbooks, seven of which are James Beard Award winners. Her debut, "An Invitation to Indian Cooking," published in 1973, was inducted into the James Beard Foundation's Cookbook Hall of Fame in 2006.
Now she's sharing her experience and India's vast culinary traditions with you on MasterClass. Explore a world of flavor and spices, learn 35 authentic recipes—step by step—and experience the cultures and culinary traditions of one of the world's largest countries.
Lessons in this online class include:
– Staple Spices: Roasted Cumin and Garam Masala
– Exploring Spices: Potato a Thousand Ways
– Demystifying Curry: Goan Shrimp
– South Asian Meats: Aloo Gosht
– Essential Indian Vegetables: Cauliflower With Asafetida and Cumin
– The Magic of Rice: Basmati and Biryani
– Indian Breads: Chapati
– Comforting Legumes: Dal
– Embellishing Every Morsel: Tamarind Chutney
– Lip-Smacking Savory Street Food: Dahi Aloo Puri Chaat
– An Indian Feast: Sample Menus
Homepage:
https://www.masterclass.com/classes/madhur-jaffrey-teaches-indian-cooking
Screenshots