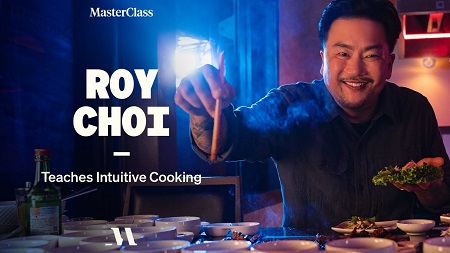 MasterClass – Roy Choi Teaches Intuitive Cooking
.MKV, AVC, 1920×10800, 24 fps | English, AAC, 2 Ch | 4h 22m | + PDF | 11.39 GB
Roy Choi wasn't trying to start a revolution when he took tacos, kimchi, and more to the Los Angeles streets with the Kogi BBQ taco truck. He just wanted to make what he loved and knew by heart: immigrant-influenced all-American food. Now he's teaching you his recipes, sauces, and techniques. Learn how to cook with your instincts using equipment you already have-and start adding your own twist to tried-and-true favorites.
Hailed as one of the architects of the modern food truck movement, Roy Choi found success by embracing the food he grew up with. Born in Seoul, South Korea, and raised in Los Angeles, California, he graduated from the Culinary Institute of America and worked in French fine dining restaurants before he took his passion for reimagined tacos, barbecue, and kimchi to the streets of L.A. with the Kogi BBQ truck. His food, especially the Kogi taco, became a sensation, and he hasn't stopped since.
His civic-minded TV show Broken Bread on KCET/Tastemade garnered a James Beard Foundation Award for outstanding host in a television series, and he's also the cohost of the Netflix cooking series The Chef Show. He's been named "Best New Chef" by Food & Wine and landed on the NYT bestseller list with his 2013 cookbook/memoir, L.A. Son. Now he's teaching you his recipes and his approach to leading with your instincts, working with the equipment you already have in your kitchen, and blending flavors and foods you love to create meals that bring people together.
Lessons in this online class include:
– Roy's Pantry Staples
– The Equipment You Don't Need
– Mother Sauce: Kalbi Marinade
– Mother Sauce: Kogi Vinaigrette
– Mother Sauce: Scallion Dipping Sauce
– Mother Sauce: Salsa Verde
– Kogi Taco Part I: BBQ Kalbi and Veggies
– Kogi Taco Part II: Slaw, Toppings, and Assembly
– Napa Cabbage Kimchi
– Kimchi Fried Rice
– Kimchi Tuna Melt
– Savory Mung Bean Pancake
– 3 p.m. Dumplings: Beef-Pork and Veggie
– Large-Format Carnitas With Pork Fat Cilantro Rice
– Carnitas and Pork Fat Cilantro Rice Burrito
– Whole Grilled Fish With Ponzu Sauce
– Panchan: Asian Pear and Watermelon Kimchis
– Panchan: Blanched Broccoli
– Panchan: Quick-Pickled Cucumbers
– Next-Day Rice Bowls
Screenshots