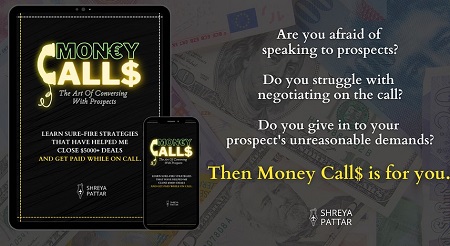 Money Call$: Prospect Conversation Systems I Used To Go From Broke Student To Closing $5000+ Deals On The Phone
By Shreya Pattar
Introducing Money Call$ – The Advanced Edition
The only system you will ever need for turning prospects into high-paying clients confidently and systematically, over text or phone call.
Here's everything you get in Money Call$ – The Advanced Edition:
Money Calls Guide
Smash your mental barriers & fears, and learn a repeatable system to conduct outstanding calls with your prospects. Even if you've never done it before.
Advanced Guide 1: Deep Analysis of 2 Real Prospect Conversations
Discover the elements of a persuasive conversation through the deep analysis of 2 real conversations I've had with prospects over LinkedIn DMs.
Advanced Guide 2: Objection-Management Scripts
Handle your prospects' objections like a pro with my 5 done-for-you scripts.
Advanced Guide 3: Prospect Red Flags
7 prospect red flags you must watch out for to avoid the pitfalls of "fake" and difficult clients.
Advanced Guide 4: Video Call Expert
This mini-guide gives my top 10 tips for conducting professional, impressive video calls with your prospects.
Advanced Guide 5: Airtight Proposals
Discover 8 elements that will make your proposal airtight, so you can work with your clients stress-free.
Advanced Guide 6: Prospect Call Compass
Follow this simple checklist to navigate your way effortlessly during the prospect call.
Learn Sure-Fire Strategies That Have Helped Me Close $5000+ Deals And Get Paid On The Phone:
In Money Call$, I'll show you how to :
SMASH your mental barriers that hold you back from conversing with prospects
Find prospects using my 3 Easy Methods
Qualify your leads in just 5 minutes using my simple Prospect Qualification Strategies
Set up a call with your prospects like a pro
Prepare for a prospect call — no fidgeting or "umms" and "uhhs" on the call
Conduct the prospect call confidently and become the prospect's go-to freelancer
Close the deal and get paid while on the call
Leverage prospect calls that didn't work out – don't let your calls "go to waste"
Apply the 14 Golden Rules of Prospect Conversation to establish yourself as an exceptional freelancer in your prospects' minds.
Homepage:
https://shreyapattar.gumroad.com/l/moneycalls