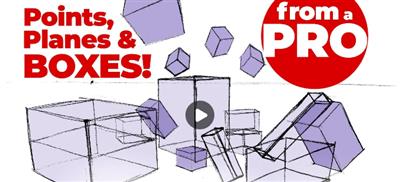 Points, planes & boxes: The hidden keys to drawing anything well. The basics of space and structure
Genre: eLearning | Language: English
This class is not about line quality, surface texture or rendering techniques. It's arguably much more important than that. It's about getting to grips with structure – the underlying secret sauce that will ground your art in reality and make it believable.
Boxes provide an excellent and essential first step in understanding structure.
It's all well and good to draw a fairly lively feeling line that varies in thickness. What's more important is the hidden structure beneath the line.
What's the line revealing? Well structured forms, or a bit of a mess?
Solid structure is what you need to understand if you want to be able to draw things from different angles in perspective, with forms that are convincing.
I've published classes which tackle drawing things constructively, beginning at an intermediate level that assumes that you can build solid shapes in perspective already. Lots of you have trouble with that and I've been asked to start from absolute scratch so you can learn and develop those skills, even as a beginner.
I've been drawing storyboards for many years in London, Hong Kong and Los Angeles.
One thing I know is that to survive in an art production environment you have to be able to construct scenes quickly, and well. You don't have to see the whole thing in your head first, but you have to be able to put it together in a drawing.
To do that you have to be able to build 3 dimensional forms on a 2 dimensional surface.
Mastering how to use points, planes and boxes is the most efficient way to develop those skills that I've encountered.
Once you've got the hang of it, you can analyze and reconstruct objects and scenes that you may have less than perfect reference of. For example, your references might be from the wrong angles to simply copy or trace.
So if you want to take the first steps to unlocking your inventive drawing potential, I'll see you in class!
Content Source:
https://www.skillshare.com/classes/Points-planes-boxes-The-hidden-keys-to-drawing-anything-well-The-basics-of-space-and-structure/5596995