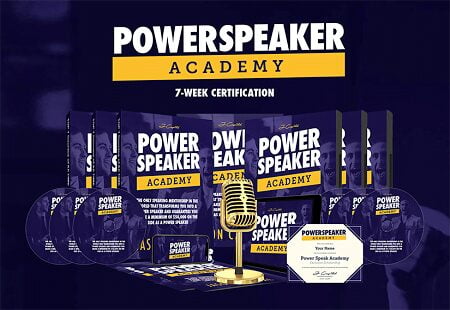 Jason Capital – Power Speaker Academy 2020
WEBRip | English | MKV – PDF Guides | 1280 x 720 | AVC ~1351 kbps | 25 fps
A_VORBIS | 64 Kbps | 44.1 KHz | 2 channels | ~17 hours | 11.47 GB
Genre: eLearning Video / Self Improvement, Business
Jason Capital started his first business in his dorm room. He went from broke to millionaire in 9 months.
He's the only person to ever sell over a million dollars online in 5 different industries before the age of 30. Over the last 10 years, he's played college basketball, gotten recognized by the White House as a Top 100 Entrepreneur, been named the world's top dating coach for men, helped hundreds of people earn a full-time income from home (including creating 9 millionaire students in 2019), and founded an agency called Project Agent that unlocks hidden revenue streams for some of social media's biggest stars and Influencers.
Thank you so much for reaching out about the Power Speaker Academy Implementation Group!
I'd love to have you join us.
I've been working closely with people of all backgrounds to teach them my lessons, unleash them as true Power Speakers and make them badasses on video with an audience that wants to buy from them.
So far the results have been amazing. I have two Millionaire Students so far. (Their names are Steven Kieth and Kirby Robbins and Forbes is writing an article about us next month!)
I'd like to work with a few more students and turn them into Case Studies too. (Who knows, maybe you'll even be my next Millionaire Student.)
We're going to work closely together over the next 7 weeks to make you $100,000 – $250,000 on the side by building you an audience and making you truly great on video.
Here's how it'll work:
You and I will work on the 3 parts of being a Power Speaker:
Power Speaker Storytelling. Using my Power Speaker Story Formula™ and the James Cameron Framework, we'll equip you with the tools you need to turn your life experiences into stories that make your audience laugh, cry and buy.
Power Speaker Sub-Communications. We'll use my Sub-Communication Framework™ and my Reality Distortion Framework™ to unleash your body language, eye contact and vocal tonality. The "holy grail" for you as a Power Speaker.
Power Speaker Structure. We'll tap into many of my 48 Power Speaking Formulas. With these structures, you'll always know what to say and keep your audience engaged. I use them for everything we do. I expect you will too.
Price: $1,990
Homepage:
https://jasoncapital.teachable.com/p/power-speaker-academy
Screenshots