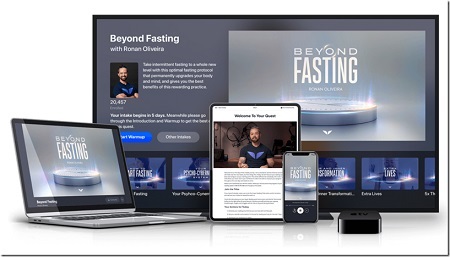 Beyond Fasting – Ronan Oliviera – MindValley
SIZE: 12,5 GB
Are you looking for the easiest, most effective way to level up your health or get in better shape?
Intermittent fasting has become a global phenomenon in recent years.
And unlike many other health or diet trends, it's been rigorously proven as an effective and accessible practice for almost anyone.
Yet if you're fasting the way most people do, which is to simply change when you eat – then you're barely scraping the surface of what it can really do for you.
Plus, you're likely opening yourself to some of the common pitfalls: like debilitating hunger, inconsistency, or subpar results.
But when you fast the right way, you experience a total and sustainable transformation of your body and mind.
This includes a lifetime of better health. A healthier metabolism and digestive system. Optimal weight. And even a renewed relationship with food, hunger, and yourself.
These life-changing outcomes are yours with Beyond Fasting: a science-based 28-day protocol that opens you to fasting's full spectrum of benefits, without the struggle or uncomfortable starvation.
Fast Like Never Before
The power of Beyond Fasting is that it rewards you with both a profound physical and inner transformation that goes far beyond the typical approach to fasting.
The key is in taking you deeper than just when you eat (which is where most people draw the line) – into what, how, how much, and even why you eat.
Beyond Fasting combines today's best knowledge in optimal nutrition, biology, psychology, and habit formation to create lasting, struggle-free transformation in you.
In just 28 days, you'll experience not only breakthroughs in your health and body weight – but also a deep reprogramming of how you perceive and manage hunger, cravings, and your food choices in relation to your personal wellness goals.
This is how Beyond Fasting doesn't just reshape your body – it also reshapes you.
Beyond Fasting is a 28-day online program that guides you towards a lasting physical and inner transformation through the practice of optimized intermittent fasting.
20 minutes a day is all you need, as you join Ronan Oliveira in daily bite-sized video lessons on fasting and nutrition optimization, mindful eating, and even how to shift your habits and mindset for lifelong health and freedom from unhealthy food choices.
By the end of your journey, you'll emerge with a rewarding fasting routine that sticks – and keeps you in optimal health, shape, and wellness for a lifetime.
Homepage
https://www.mindvalley.com/fasting
Screenshots