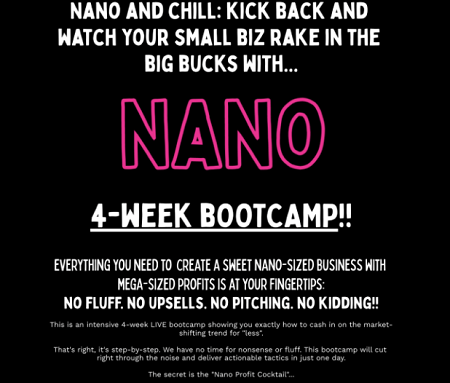 Ryan Lee – Nano Bootcamp | 13.2 GB
WHAT YOU GET?
– LIVE ticket to online 4-WEEK NANO BOOTCAMP
– LIFETIME downloadable video recordings of NANO BOOTCAMP
– LIFETIME downloadable access to ALL the NANO BOOTCAMP Audio (mp3 Files)
– LIFETIME downloadable access to ALL the NANO BOOTCAMP handouts (PDF Files)
– 1-Page Nano Membership Site Templates
– Done-For-You Nano Newsletter Templates
– Done-For-You Nano Book Templates
– My "Greatest Hits" Email Swipe File
– 26,000 Members Paying $15 Per Month Case Study
– The $35,000.00 "Behind the Curtain" Mastermind Session Recording
BONUSES:
BONUS #1:
"done-for-you" 1-page nano membership templateS
Forget tech. Goodbye platforms.
You'll get a dozen copy/paste 1-page nano-membership templates you can use in your own niche.
Your templates are 100% editable and it's going to save you hours of work!
BONUS #2:
THE 7-FIGURE NEWSLETTER TEMPLATES
Newsletters are the hottest recurring income programs for a good reason. Subscribers love 'em and you can charge up to $300 per month for a specialized letter.
But no more staring at a blank page. You'll get actual newsletter templates you can use right away.
Just change the title to your own name and you're good to go.
BONUS #3:
THE NANO BOOK TEMPLATES
Discover how to create your own hot-selling "Nano" book that'll bring in thousands of new customers
AND…
Position you at THE expert in your niche. Get booked on stages, podcasts and become the rock star you are.
Copy/paste your way to fame and elevated status.
BONUS #4:
7-figure email swipe file
Get your hands on my highest-converting that converted prospects into paid subscribers.
Just wait until you see my top-secret email template that'll have people drooling to join your nano continuity program.
3-day internal launches? The hot-button email? Double-dip continuity? It's in there…
BONUS #5:
26,000 members paying $15 per month… for a pdf?
Prepare to be blown away. My former student comes on and shares his site, which had over 26,000 members paying $15 per month in the health space.
Each month they received just a PDF and they stayed loved it. See exactly how it worked and how it grew so big!
BONUS #6:
the $35,000.00 continuity income session
I was invited by a friend to give a "behind the curtain", no-holds-barred look into one of my continuity income programs.
Everyone paid $35,000.00 to be in the room and this recording has never been released before. But it's yours now!
Homepage:
https://ryanlee.com/nano