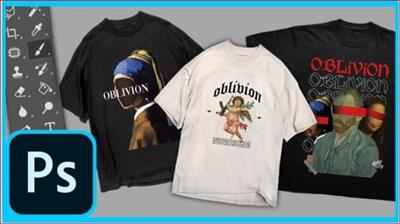 MP4 | Video: h264, 1280×720 | Audio: AAC, 44.1 KHz
Language: English | Size: 1.16 GB | Duration: 1h 40m
Master Media School, the home of successful, indie Designers/Videographers.
Hi there, my name is Enis. I am a Designer/Videographer.
In this course, I will teach you everything you need to know about creating cool Shirt Designs In Photoshop.
This course is for beginners. You do not need any previous knowledge of Photoshop or design. We will start right at the beginning and work our way through step by step.
You will learn the Photoshop steps of creating a winning shirt design!
By the end of this course, you'll possess super skills!
Learn Shortcuts, Gathering assets, Working Around Photoshop.
Working With Text Effects, Overlays, Color Matching, and More.
Working On Assets, Overlays, Particles, And Lighting
Master Composition, Overlays, Textures, and Text Effects.
Finale Test (Test Your Skills), Where To Keep Learning
There is a free Photoshop file full of assets, overlays, particles, font styles, and more, all of which are free for you to use! There's also an assignment where you will have to create a simple shirt design which will I review and leave feedback on!
If you have never opened Photoshop before or you have already opened Photoshop and are struggling with creating cool shirt designs, follow me and together we will learn how to make streetwear shirt designs using Photoshop.
Let's Create. We Can Do It.
Homepage
https://www.skillshare.com/classes/Learn-Shirt-Design-Photoshop-For-Beginners/455572952