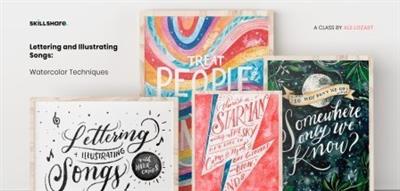 Skillshare – Lettering + Illustrating Songs: Watercolor Techniques
Genre: eLearning | Language: English
I will show you how to concept, how to create a mood board from the moment you listen to a song, based on what you are feeling and color theory. Then we will start using several techniques such as: Lettering inside figures, watercolor and salt technique, negative space and the use of masking fluid. All of this techniques making 3 different songs by David Bowie, Keane, and Harry Styles. Awesome, right? I will also show you the basics of Photoshop and how to have your master piece ready for printing.
Content Source:
https://www.skillshare.com/classes/Lettering-Illustrating-Songs-Watercolor-Techniques/292875680