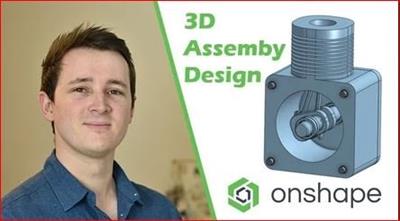 MP4 | Video: h264, 1280×720 | Audio: AAC, 44.1 KHz
Language: English | Size: 1.09 GB | Duration: 1h 23m
CLASS:
In this class, we build upon the previous class of 3D Modelling in Computer Aided Design (CAD) using PTC Onshape, by looking at the elements that allow us to construct 3D Assemblies. 3D assemblies allow us to put a number of 3D models together, to ensure they fit together to create our product.
Onshape handles assemblies in a different way to other CAD packages, but this is a good thing! Onshape has the most intuitive and rapid assembly infrastructure that I have come across. We will learn how to build assemblies with mates, and the types of connections, or relations, to easily introduce movement of components relative to others.
This class has a Capstone Project at the end of the class to solidify the learning you will get from this class by putting your new knowledge into practise. This assembly is a very simplified internal combustion engine, because some of the primary elements to an engine have some interesting component motions.
ONSHAPE SERIES:
Would you like to become a designer and create your own products but don't know where to start? Begin your journey by developing your knowledge in using Computer Aided Engineering (CAD) through the use of the amazing software PTC Onshape!
PTC Onshape is a fantastic tool for creating high-quality engineering models and technical drawings quickly with great ease. It works through your web browser so you won't be constrained by hardware requirements or update issues. Working and sharing models with colleagues couldn't be easier, and becoming proficient will take just a matter of hours! PTC Onshape works in an innovative new way compared to other CAD software, in order to maximise collaboration and productivity, and will likely lead all competitors into a new way of thinking,
To ensure you really learn how to use PTC Onshape, the class is structured with video lectures and a capstone project – solutions are provided.
Dive into this course and see what creations and designs you can produce at the end of this course.
We hope to see you take part, enjoy this class and post your projects!
Homepage
https://www.skillshare.com/classes/PTC-Onshape-CAD-the-Complete-Guide-3D-Assemblies/1585597481