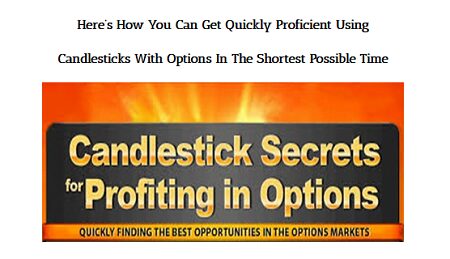 Steve Nison – Candlestick Secrets For Profiting In Options | 645.9 MB
This new Candlestick Secrets For Profiting In Options online streaming video training is not a course where you will discover new esoteric option strategies.
Instead, it is much better than that. Because Steve Nison will show you how to fuse the very best of his candlestick patterns, Western technical indicators, and trade management techniques to determine what outright or spread option strategy to use. which strike prices to pick. and when to enter and close out the option position.
If you're new to options, Steve will get you quickly up to speed with what you need to know. And if you already are familiar with various option strategies, this training program will add valuable depth to boost the quality and success of your trades.
Steve Nison:
I will give you all of these breakthrough approaches to use candlesticks, Western indicators, and trade management for option strategies. I will reveal which candlestick patterns and strategies have the greatest effect on your options trading success and show you how to apply them to your own options trading.
Some of the top traders in the world are eager to get this information. But it will only be available to those who register for this training. This is the ONLY way to learn the brand new eye opening candlestick strategies that are 100% options focused.
Warning: If you are looking for a dry discussion of options trading and a nice motivational pep talk you're in the wrong place. Your brain is going to be elevated to new ways of thinking as you discover my all newest candlestick strategies for options that you will use in your options trading immediately.
I have no time or patience for theory; this is all about results and I'm going to take you from raw rookie to near mastery level in one and a half days and in doing so move you to an entirely new level in your trading. You're going to be blown away as I rocket past anything you have ever learned about timing options before.
There's no one else who does this. There are no books, tapes, or DVD sets where you can learn these breakthrough options strategies.
Mastering Time Decay: The Secret Revealed
Many options traders I talk to understand the many advantages of buying puts and calls, but they don't fully comprehend how much time decay can eat away at their profits. Mastering time decay is the true essence of options trading, and is the key to unlocking wealth from this market that a select group of top traders have mastered.
What I'm about to reveal to you is the secret of how to overcome the ticking clock on time decay. It's the way to minimize your risk and guide your trades to maximum profits. And by learning how to know exactly when to place the trade just as the market is ready to move you will reach you desired goal to make the most possible money on each trade.
The Art of Seeing What's Invisible To Other Traders
What I discovered is that reading candlestick charts with full confidence allows you to bypass the fears and see what is happening with full clarity. And when you truly master these candlesticks for options strategies, it's like possessing secret Ninja skills that other option traders are oblivious to.
Some traders think the way to master options is to focus on the numbers and building complex spreadsheets to track the calculations. They have learned high-level options theories, but they're missing the real action that is happening before them.
What I am helping options traders discover is that there's a higher level of success that can be achieved. These new options-focused candlestick strategies are designed to lift you up to that new level you have never experienced before.
Now I'm beginning to wonder if you can realize the potential of having access to this power in your options trading.
The Power To Control Your Results
For over 35 years I've been using Western technical analysis tools together with candlestick charts and trade management, and applying it to all the training and trading I do. As I have focused on finding the secret to using candlesticks with options for the best results, I had a "Eureka" moment that is the crux of this entire new training. I arrived at the two simple yet profound questions every trader should ask when approaching every options trade.
I'm not going to waste your time on theory because I've been in the trenches proving these candlestick patterns and strategies work. My massive body of work in books, DVD Training Programs, and live seminars is used by countless thousands of traders worldwide. They are using these strategies every day in real trading and investing. Today, everyone uses candlesticks – from first-time traders to top institutional fund managers. My training is used as the standard for candlestick strategies everywhere.
I attained the highest possible certification of CMT – Certified Market Technician. As a result, I have the in-depth knowledge to break down any trading situation in any market, and use the most potent Western technical indicators to get a better picture of what is happening. Then I add my time-tested candlestick patterns and strategies to go into every trading situation with absolute confidence.
Screenshots