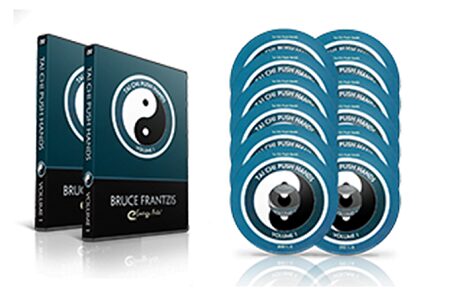 Tai Chi Push Hands – Bruce Kumar Frantzis | 12.2 GB
Tai Chi Push Hands is the bridge between learning the form work of tai chi and developing the sensitivity to work with the 8 energies of tai chi. Through partner exercises, you progressively learn to feel energy in yourself and your partner. This is the bridge to using qi for applications including martial arts, healing and meditation. Push Hands is the accelerator for learning to work with qi in your body.
Here are 18 DVDs while in his Tai Chi Mastery Program was only 12 DVDs as a bonus.
DVDRip – all lessons are made into iondividual files.
Tai Chi Push Hands Lesson Index
Push Hands Lesson 1: Why Practice Push Hands
Push Hands Lesson 2: Ten Basic Principles
Push Hands Lesson 3: Single Hand-Shift No Turn
Push Hands Lesson 4: Partner Demo: Leg Shift-No Turn
Push Hands Lesson 5: How to Shift Your Weight
Push Hands Lesson 6: Neither Push nor Let Go
Push Hands Lesson 7: Arms Bending and Stretching
Push Hands Lesson 8: Partner Demo: Arms Bend and Stretch
Push Hands Lesson 9: Keep Space between Hand and Chest
Push Hands Lesson 10: Shifting Weight and Turning the Waist
Push Hands Lesson 11: Partner Demo-Hand Movement and Circularity
Push Hands Lesson 12: Avoid Hypnosis
Push Hands Lesson 13: Martial Arts Defense and Offense
Push Hands Lesson 14: Continuous Arm and Waist Rotation
Push Hands Lesson 15: Offensive Movements and Vector Angles
Push Hands Lesson 16: Circling and Moving the Elbows
Push Hands Lesson 17: Power in Push Hands
Push Hands Lesson 18: Relaxing while Pushing Hands
Push Hands Lesson 19: Being Present to the Eyes and Mind
Push Hands Lesson 20: Turning the Kwa
Push Hands Lesson 21: The Seventy-percent Rule in Push Hands
Push Hands Lesson 22: Using the Wrist and Elbows
Push Hands Lesson 23: Elbow Control and Placement
Push Hands Lesson 24: When to Drop the Elbow
Push Hands Lesson 25: Single Push Hands Balance, Alignments and Rooting
Push Hands Lesson 26: Integrating Peng, Lu, Ji and An
Push Hands Lesson 27: Strong and Weak Body Vectors
Push Hands Lesson 28: Bridge to Double Push Hands
Push Hands Lesson 29: Continuous Contact: Physical, Energetic and Meditative
Push Hands Lesson 30: Wrist and Elbow Rotation and Contact
Push Hands Lesson 31: Changing Palm and Elbow Position
Push Hands Lesson 32: Rooting
Push Hands Lesson 33: Turning and Twisting the Legs
Push Hands Lesson 34: Bring Energy Down and Back
Push Hands Lesson 35: Opening the Dang and Perineum
Push Hands Lesson 36: What Kind of Stance
Push Hands Lesson 37: Finding Where You Get Stuck
Push Hands Lesson 38: Grounding Your Opponent's Power
Push Hands Lesson 39: Two-Person Partner Corrections
Push Hands Lesson 40: Angles of the Feet
Push Hands Lesson 41: Introduction to Double Push Hands
Push Hands Lesson 42: Double Pushing Hands Preparation-Maintaining the Ball
Push Hands Lesson 43: Double Pushing Hands Preparation-Yielding and Returning the Ball
Push Hands Lesson 44: Double Pushing Hands Preparation-Recognizing Your Edge
Push Hands Lesson 45: Double Pushing Hands Preparation-Opening and Closing the Ball
Push Hands Lesson 46: Double Pushing Hands Preparation-Different Heights and Circles
Push Hands Lesson 47: Overcoming Tension in the Legs
Push Hands Lesson 48: Listening to Energy
Push Hands Lesson 49: The Dance of Four Energies
Push Hands Lesson 50: Changing from Peng to Lu
Push Hands Lesson 51: Seventy Percent Rule
Push Hands Lesson 52: Switch Points
Push Hands Lesson 53: Path of Least Resistance
Push Hands Lesson 54: Learning Progression for Martial Arts
Push Hands Lesson 55: Lu: Yielding
Push Hands Lesson 56: Partner Demo: Yielding
Push Hands Lesson 57: Four Stages of Lu
Push Hands Lesson 58: Twisting and Yin/Yang
Push Hands Lesson 59: Power Pass Through and Lu
Push Hands Lesson 60: Neutralizing Force and An
Push Hands Lesson 61: Physical, Energetic and Quantum
Push Hands Lesson 62: Releasing Energy with Ji
Push Hands Lesson 63: Transferring Between Energies
Push Hands Lesson 64: An and Ji Counters
Push Hands Lesson 65: Triangulating your Push with Ji
Push Hands Lesson 66: Stages of Meditation
Push Hands Lesson 67: Tai Chi Form Development
Push Hands Lesson 68: Free Form Pushing Hands
Push Hands Lesson 69: Tai chi Fighting
Push Hands Lesson 70: Tai Chi Continuum
Push Hands Lesson 71: Partner Demo: An to Ji
Push Hands Lesson 72: Triangulation of Ji
Push Hands Lesson 73: Refining An and Ji
Push Hands Lesson 74: Fixed and Free Form Practice
Push Hands Lesson 75: Feeling and Being Present
Push Hands Lesson 76: Continuous Contact Exercise
Push Hands Lesson 77: Lengthening in Tai Chi
Push Hands Lesson 78: Double Push Hands Movement
Push Hands Lesson 79: Double Push Hands Mechanics
Push Hands Lesson 80: Push Hands Variations
Push Hands Lesson 81: Long, Medium and Short Range
Push Hands Lesson 82: Different Body Types
Push Hands Lesson 83: The Elbow as a Fulcrum
Push Hands Lesson 84: Pushing with the Elbow
Push Hands Lesson 85: Relaxing your Hands
Push Hands Lesson 86: The Source of Power
Push Hands Lesson 87: Cutting an Opponent's Power
Push Hands Lesson 88: Softening the Feet
Push Hands Lesson 89: Reversing Direction
Push Hands Lesson 90: Dissolving inertia Meditation
Push Hands Lesson 91: Being Present
Push Hands Lesson 92: Seventy Percent Rule and Reversing Directions
Push Hands Lesson 93: Yin and Yang in Internal Arts
Push Hands Lesson 94: Tracking and Reversing
Push Hands Lesson 95: Martial and Meditative Perspectives
Push Hands Lesson 96: Pushing on your Center
Push Hands Lesson 97: Ways to change Directions
Push Hands Lesson 98: Variations in Form
Push Hands Lesson 99: Bouncing Energy
Push Hands Lesson 100: Big Style Push Hands
Push Hands Lesson 101: Hand Sequence Steps
Push Hands Lesson 102: Single Hand Stepping
Push Hands Lesson 103: Hands Link to the Tantien
Push Hands Lesson 104: Practice Set Progression
Push Hands Lesson 105: Drop Shoulders, Sink Elbows
Push Hands Lesson 106: Tai Chi in Sex and Life
Push Hands Lesson 107: Stability in Stepping
Push Hands Lesson 108: Stepping Variations
Push Hands Lesson 109: Learning Push Hands
Push Hands Lesson 110: Stepping Exercises
Push Hands Lesson 111: Leg Length Adjustments
Push Hands Lesson 112: Double Pushing Hands Stepping
Push Hands Lesson 113: Review of Double Weighting
Push Hands Lesson 114: Review of Shifting Weight
Push Hands Lesson 115: Review of Relaxation
Push Hands Lesson 116: Review of Internal Power
Push Hands Lesson 117: Turning as a Unit
Push Hands Lesson 118: Folding at the Kwa
Push Hands Lesson 119: Review of Bend and Stretch
Push Hands Lesson 120: Review of Peng, Lu, An & Ji
Push Hands Lesson 121: Review of Attack to Defense
Push Hands Lesson 122: Conclusion
Screenshots