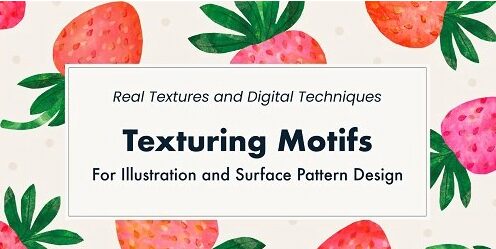 Texturing Motifs for Illustration and Surface Pattern Design real textures and digital techniques
Genre: eLearning | Language: English | Drawing & Painting | 1 GB + | MP4
Hello and welcome to Texturing Motifs for Illustration and Surface Pattern Design. In this class I'll be sharing my process of combining real textures with digital techniques.
Creating textures begins with layering traditional media on paper. It's a lot of fun and easy to do. Textures and shapes can then be brought together digitally to create eye-catching motifs. With this technique it's possible to achieve a paper cutout style, or alternatively add form through shading and detail. Textures can be layered to achieve rich effects, and it's easy to reposition them in the design.
Items needed for the project are paper and colouring media of your choice, plus a device with design app that has clipping mask capability, for example Procreate® or Adobe Photoshop®. There are demonstrations using these during the class. This is an intermediate level class, but the key steps are relatively simple so beginners should also be able to follow along.
Content Source:
https://www.skillshare.com/classes/Texturing-Motifs-for-Illustration-and-Surface-Pattern-Design-real-textures-and-digital-techniques/68497437