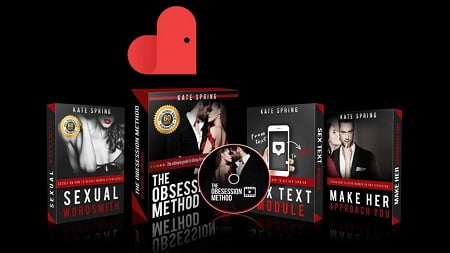 The Obsession Method | 2,1 GB
The Obsession Method by Kate Spring
Obsession Method teaches you a highly secretive encrypted language that allows you to psychologically hack into any woman's mind and implant your thoughts, giving you absolute control over how she feels about you and how much she adore, desires and want you.
About The Program
The Obsession Method is a relationship program that shows and teaches me how to capture the heart and mind of a girl using a proven secret language that design to penetrate the heart and mind of any lady and ignite powerful sexual fantasies inside her such that she will be dreaming about you all day long and craving to touch and hold you, and wrap her legs around you begging you to be hers.
This program is for those desiring to get into a serious relationship with a lady and need help in approaching her, making your intentions know to her and getting her to say yes all the while wondering where you have been all her life. The program is also for the man who just want a girl to lust and obsess over him and do whatever it takes to get him to sleep with her. The tactics and techniques in this program has been specially design to cater for various needs of the modern man and equally works for the man who simply wants his ex back.
In the program you will have access to the "secret encrypted language" that will allow you to psychologically gain access to a woman's brain and completely control how she think and feel towards you and how much desires you. This secret language have been proven to make women obsessive and should be use only on a lady you want chasing after you.
If you would like to up your dating life and become powerful, seductive, and attractive then the techniques and tactics in this program is what you need. With various techniques that includes Body Messages, Marriage Man, Subliminal 3's, Story Mode, Text Seduction, Precision Tactics, Unstoppable Pickup, and more.. you will learn the skill that makes women feel uncontrollable sexual urges for you, and do everything within their power to get you in bed or make you fall in love.
Homepage:
https://obsessionmethods.com/
Screenshots