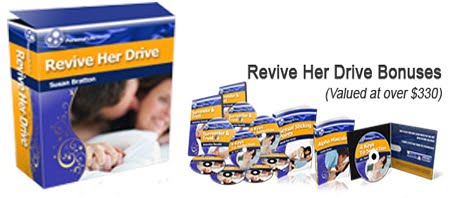 The Revive Her Drive – Relationship Magic with Tim & Susan Bratton | 536 MB
Have you realized that the chemistry between you and your lady is slowly fading out? Has the passion in your relationship cooled down?
Are you trying to impress your lady but she is not feeling your vibe? If yes then that is a clear indication that something in your relationship is not right. It is very frustrating as a man to do everything within your power to impress the lady that you love and adore but she seem not to care or respond to your affection. Relationship Magic by Tim and Susan Bratton is a comprehensive program created to discuss major challenges that people face in relationship to the point where the lady is not interested to get intimate anymore. This program has been created to specifically help men to understand their women as well as help them know how to revive her sexual appetite so that they can both enjoy God given gift. This program clearly spells out what a man needs to do make sure that both him and his lady are reading on the same page as far as sexual needs are concerned.
However it is s very important to note that this program is not meant for men who are not in a serious relationship as well as those who have resentment with ladies and are only looking for quick solutions in order to drop a woman pants. This program is meant for men who genuinely love their women and are looking for ways to reignite the lost chemistry that they once had. This program will provide concrete solutions that will help you revive the lost
passion that you once had with your girlfriend or wife. The program focuses on techniques and things that men can do to get their partners in bed again with desire and lust that they had when they were dating.
The revive her drive™ Relationship Magic by Tim and Susan Bratton is perfect for married men and men who are in long term relationship and want to reignite the lost passion in bed. The program will guide you on what you need to do as man to overcome what the authors call midlife crisis and what you need to do to make her fantasize about making love to you.
What the program includes
The revive her drive Relationship Magic by Tim and Susan Bratton is a step by step guide that teaches men how to redeem bedroom chemistry with their partners. This program come with numerous items including:
– Revive her drive fast path drive
– Relationship values
– 4 element of revival
– How to know if her sex drive is repairable
– 4 keys to seduction
– Lifelong passion
– Erotic communication
Homepage:
http://thereviveherdrive.com/