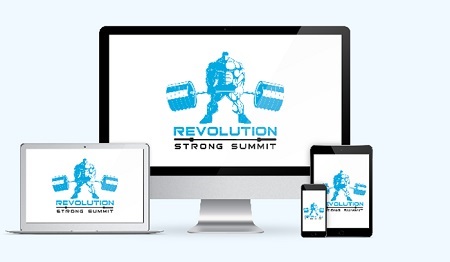 Revolution Strong Summit
SIZE: 4,7 GB
WELCOME TO THE WORLD'S LARGEST STRENGTH & PERFORMANCE EVENT EVER CREATED ONLINE…
DISCOVER THE STRONGEST AND BEST VERSION OF YOURSELF!!!
You will not only get a better understanding of the key principles for peak health, a high level of fitness, and training excellence, but you'll get actionable strategies and high value content to change your life forever. No other event ever will provide such a "deep dive" wiht the education and applications of maximizing human potential. This is the NEW REVOLUTION of training and performance…
Created Specifically For The Serious Fitness Enthusiast, Athlete, Coach, Or Sports/Rehab Professional.
This is an event that will transform the way you think and train for the long term. An unparalleled experience that will gather the world's greatest minds in strength, performance, and injury prevention to provide a comprehensive and systematic approach to human performance. Unleash physical potential – for yourself or those you work with!
Check Out This Phenomenal "World-Class" Collaboration Of Over 30 Experts You'll Be Learning From…
1. You'll be learning from the VERY BEST on the planet! The speakers in the summit are each "hand picked" for their various contributions in the industry. The speakers are some of the world's best in strength and performance training. The Revolution Strong Summit aims to become the world's largest – and best – online summit of it's kind. No matter where you are – beginner or advanced – you'll learn from the greatest minds and hear things you've never heard before that will make a difference in your training – or for those you work with.
2. Your expectations will be exceeded with a world-class onlne experience … The summit has been a vision for a very long time – and now it's reality! Whatever your expectations, we guarantee that this event will be an exceptional and valuable learning experience. The collection of thought leaders will bring incredible knowledge, actionable advice, and key learning tips with each and every presentation. If you apply the material, the information can be transformational!
3. You'll get ONLY the highest value information to transform your training, your body, your mind, and your life! No fluff, No BS, Pure Content! One of the goals of the summit was to get the absolute best information from each guest – to provide the highest value content for the attendees. There will be things presented in the summit that have never been discussed before. You'll come away with new knowledge and practical applications to improve results. That's the bottom line. And, the event is entirely virtual – so you get access when it's convenient for you!
Homepage
https://revolutionstrongsummit.com/
Screenshots