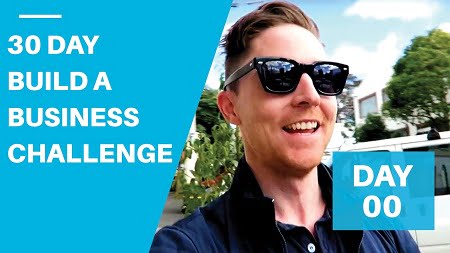 Timothy Marc – SSM Build a Business Challenge (30 Day)
WEBRip | English | MP4 | 1280 x 720 | AVC ~724 kbps | 29.970 fps
AAC | 126 Kbps | 44.1 KHz | 2 channels | 10:56:56 | 4.72 GB
Genre: eLearning Video / Business, Entrepreneurs
"How Tim Built An Online Business That Funds A Life Of Freedom And Adventure!" During the next 30 days i'll show you the exact steps and specific directions to help you successfully create a "Freedom Business" – and you don't need a huge budget or prior knowledge to do it.
An exclusive Freedom Business training video delivered right to your inbox each day so you can follow along and build your business too!
Was up on youtube September 1 – September 30, 2016
WHO IS THIS FOR?
– If you've read a bunch of business books and tried some online courses but are still confused as to how YOU can create YOUR successful online business
– If you already have a business but growth feels slow or you're too stressed from putting out fires all the time
– If you're sick to death of all the other stuff that's all "rah-rah" and no results
– If you're interested in creating internet campaigns that sell like crazy whilst minimising the amount of work you actually have to do
– If you want a proven plan based on millions of dollars worth of online sales and hundreds of our clients' results
HERE'S WHAT YOU'LL LEARN
1. How to BREAK FREE by building a simple online business you can run from anywhere in the world
2. Why starting or growing an online business is the safest and most lucrative career investment you'll ever make
3. An exact formula for success so you can stop fumbling around and finally get the online business freedom you've always wanted
4. How to avoid the most common entrepreneurial mistakes by hearing from real people who started real Freedom Businesses
5. A precise step by step plan you can replicate on multiple businesses in multiple niches to scale profits and minimise risk
MEET TIMOTHY MARC
Your Freedom Business Mentor
Hey i'm Timothy Marc and after quitting my day-job-of-doom as an accountant ten years ago, i've been building online "Freedom Businesses" that allow me to travel the world and live a life of freedom and adventure.
I've also shown thousands of people from all around the world how to do the same through our official world #1 entrepreneurship program and community "The Secret Society Mastermind".
When not travelling, i work out of our Freedom Business Launch Lab and training studio in Melbourne, Australia where myself and our growing team create profitable online marketing campaigns for ourselves and our clients.
With the technology available these days there's never been a better time than right now to start an online business to fund the exact lifestyle you deserve, and I have the privilege of seeing hundreds of people do this in our community each and every year.
Wishing you all the best on your freedom journey.
Screenshots