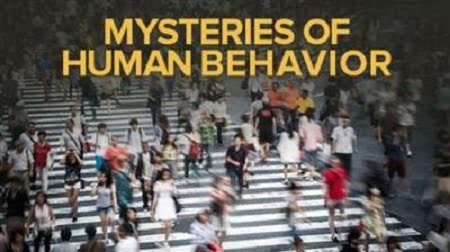 TTC Video : Understanding the Mysteries of Human Behavior | 8.24 GB
Scientific mysteries are everywhere around you. At the bottom of the deepest oceans. On the frontiers of the known universe.
But some of life's greatest scientific mysteries lie much closer than that: inside the recesses of the human mind.Show Full Description
Every day of your life is spent surrounded by mysteries that involve what, on the surface, appear to be rather ordinary human behaviors.
What makes you happy?
Where did your personality come from?
Why do you have trouble controlling certain behaviors?
What does your self-esteem do?
Why do you behave differently as an adult than you did as an adolescent?
Since the start of recorded history, and probably even before, people have been interested in answering questions about why we behave the way we do. In fact, many fields of human endeavor-such as philosophy, psychology, and even theology-are focused on finding explanations for the nature of human behavior. But it's only in recent decades, with the emergence of advanced scientific methods and tools, that researchers can finally approach, understand, and solve the mysteries of emotion, thought, and behavior in the same way that oceanographers investigate the ocean depths or astronomers study the stars above our heads.
To understand the secrets of human behavior is to better know yourself and the people around you-whether they're friends, family members, coworkers, or just acquaintances. Not only will you have a more solid understanding of what it means to be human, you will also have a stronger foundation from which to live more effectively with others and to grasp their intricate behaviors and quirks.
Join award-winning Professor Mark Leary of Duke University, a preeminent force in social psychology and neuroscience education, on a fascinating journey into the complex heart of who you are with Understanding the Mysteries of Human Behavior. Using the latest theories and research from psychology and other behavioral sciences, you'll find answers-many of them startling-to provocative questions about a variety of rather ordinary (but often quite puzzling) aspects of human behavior. With the powerful insights you'll find in these 24 intellectually scintillating lectures, you'll start looking at your own and other people's behavior with a little more insight and curiosity. And undoubtedly a little more wonderment as well.
Enjoy a Multidimensional Approach to Behavior
"We usually don't think much about our everyday behaviors, even though they can be quite fascinating,"notes Professor Leary. "These things are such a part of human nature that they seem ordinary and unremarkable. And maybe they are, in the sense that we do them regularly. But they are also puzzling and fascinating. Human beings are very unusual animals."
According to Professor Leary, many of the answers to the puzzles of our behaviors, thoughts, and emotions lie in three broad themes that, taken together, provide us with a more thorough, multidimensional approach for understanding human behavior.
Evolution: In some cases, a behavior that is difficult to understand today makes sense when you consider the possibility that the behavior dealt with a particular problem our ancestors faced in the distant past.
Self-awareness: No other animal can think consciously about itself with such abstraction as we can. Self-awareness is an important lens through which to view human behavior because much of what you do is influenced by your self-image, your future goals, and your concerns with what other people think, each of which requires abstract self-awareness.
Culture: Often, we do odd things because our culture has taught us to. Many puzzling behaviors that appear inexplicable when seen through the eyes of one culture may be understandable when seen through the eyes of another.
Throughout these lectures, you'll also learn about the various interacting forces that influence your behavior. These include your genetic blueprint, your personal experiences, your upbringing, and the people and social groups surrounding you.
Answers to Pressing Questions about Yourself
Every lecture of Understanding the Mysteries of Human Behavior examines a central question about human behavior we've all experienced at one time or another and that only now, with the aid of scientific research, we can actually explain in ways our ancestors never could.
Why do your feelings get hurt? Like physical injury, a loss of social connection compromises your well-being. The brain areas involved in hurt feelings from rejection overlap with the areas involved in the experience of physical pain. Neuroscientists believe that the social pain system was built on top of the older system that mediates physical pain.
Why do you sometimes forget things? One explanation for forgetfulness holds that a memory trace in your brain has deteriorated over time. In fact, the brain appears designed to allow disused memories to become less accessible so that you're not overwhelmed with memories that are unimportant or that interfere with the acquisition of new information.
Why do you fall in love? Research suggests that romantic love has three components-intimacy, passion, and commitment. Neuroscientists studying the biochemical bases of love have discovered that adrenalin, dopamine, and other chemicals are responsible for physical attraction, the desire for closeness, energetic feelings, and other symptoms of being in love.
Why do you blush? Many people think of blushing as a social signal that communicates a nonverbal apology for breaking some social rule. But why do we sometimes blush when we are complimented or praised? Research suggests that blushing is analogous to appeasement displays in other animals. Humans blush when we receive unwanted social attention-negative or positive.
Of course, not all of the mysteries of human behavior have been completely solved. You'll also explore behaviors that still need more definitive study, such as dreaming, kissing, consciousness, and even the creation and appreciation of art and music.
Explore Fascinating Experiments, Case Studies, and Stories
Experiments and case studies (involving both humans and primates) form the backbone of the scientific study of our behavior. Appropriately enough, Understanding the Mysteries of Human Behavior is filled with fascinating research and anecdotes that shed much-needed light on the subject-stories that are not only illuminating but also intriguing and, sometimes, even shocking.
Potato-washing monkeys: In 1952, scientists began feeding sweet potatoes to macaque monkeys on an island off the Japanese coast. In one instance, a female monkey washed sand off her potatoes in the water; other monkeys started imitating her and within a few years, virtually all of the young monkeys in the group were washing their potatoes. These observations showed scientists how culture and behavior-in monkeys and humans as well-can be transmitted from generation to generation.
Competitive summer camp: A famous study concerns the recruitment of a group of 12-year-old boys for a summer camp-all of them from the same socioeconomic background. Randomly assigned to two groups, the boys began competing with one another in sports. As time wore on, the groups became so aggressive that researchers had to keep them separated so no one would get hurt. This study helped illustrate the processes that underlie discrimination and conflict.
Uncover the Mysteries of Everyday Life
As Professor Leary shines a sharp light into the human mind, he demonstrates just why he is so respected by his scholarly peers. Winner of the Lifetime Career Award from the International Society for Self and Identity and a Scholarly Book Award from the Speech Communication Association, he has a way of drawing you into the psychology of human beings and unearthing the captivating features of seemingly mundane aspects of our lives.
After finishing the lectures of Understanding the Mysteries of Human Behavior, you'll realize how much about everyday life you take for granted, develop a deeper understanding of yourself and others, and see how much has yet to be fully explained.
Screenshots