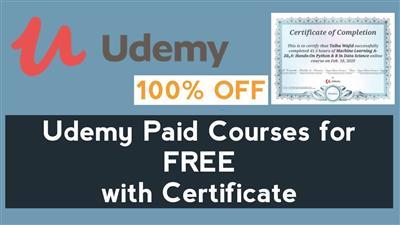 Created by Dom Hodgson | Last updated 6/2021
Duration: 1h45m | 5 sections | 14 lectures | Video: 1280×720, 44 KHz | 2.2 GB
Genre: eLearning | Language: English + Sub
The ultimate no-mess, zero-stress, step-by-step guide to raising and home schooling the perfect puppy
What you'll learn
How to puppy proof your home
How to settle in your new puppy
How to prepare your puppy for stres-free vet visits
How to play with your puppy (and have him stick to you like glue off lead!)
Requirements
If you own a puppy or are thinking of getting a puppy this course is perfect for youNo previous dog training experience required
Description
First-time puppy parent? Excited? Petrified?
Are you keen to get started – but clueless about canines, no dog-owning experience, and no idea who to trust or where to turn for help?
If only there was a way to avoid well-meaning but bad advice, eliminate the giant mistakes that cause life-long problems, and give your puppy a great start in life…
Well, now you can – because inThe Perfect Puppy Program superhero dog training specialist Dominic Hodgson shares a simple, step-by-step, fool-proof guide to hold your hand through the crucial first days, weeks, and months with your new family member.
In this course you'll discover:
How to 'puppy proof' your home and garden before your puppy arrives, and he lays out the perfect coming home routine so your puppy quickly settles into his new forever home.
The fool-proof formula that eliminates all unwanted biting, chewing, stealing – and indoor pooping. This simple trick makes your puppy a joy to share your home with.
How you can 'Home School' your puppy and be your pups perfect teacher. You'll discover how your puppy learns, and how you can programme your puppy so he grows into the perfect dog
How to use food and toys to build an unbreakable bond with your puppy, and teach him to follow you everywhere!
The two socialisation phases 'Observational' and 'Explorational'. You must watch this crucial socialisation training BEFORE you take your puppy into the big wide world.
How to correctly exercise and socialise your puppy to stop him turning into a dog-obsessed mutt who's difficult and dangerous to let off lead. Get this right and you'll enjoy stress-free walks for the rest of your dog's life.
How to easily get your puppy used to be handled so you can enjoy (rather than endure) stress-free trips to the vets and groomers.