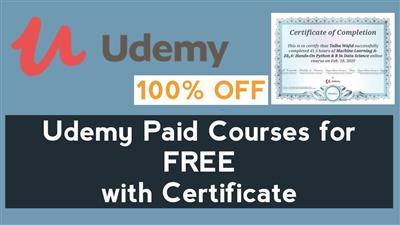 Created by El Hamim Abderrahmane | Published 7/2021
Duration: 29m | 5 sections | 11 lectures | Video: 1280×720, 44 KHz | 656 MB
Genre: eLearning | Language: English + Sub
Learn How to Use TikTok Marketing to Promote Your Business, Passion, Or your Personal brand – The Course That breaks dow
What you'll learn
How to grow your own TikTok account organically
Increase the level of engagement with your audience through TikTok Marketing
TikTok Marketing will get more exposure for your offers
Measure success of your TikTok content
Get best TikTok results in a cost-effective manner
How to design content specifically for TikTok's algorithm
Requirements
No!
Description
You want to skyrocket your personal brand? your brand, business?
TikTok Is giving you a chance to do that in a cost-effective manner
Whether you're looking to boost your personal profile or hoping to generate revenue for your business, you'll want to be on TikTok.
Tiktok Is "The world's" fastest growing social media platform, TikTok, with around 800 million monthly active users. (More than Instagram ?)
Plus, it's the only place where new users can go viral overnight. In other words, it's a marketing opportunity you don't want to miss and cry about later!
Join Us on this course to learn all the growth hacking tips that will help you shine, and skyrocket your views, audience and therefore your sales!
What are you waiting for?
n
I was able to grow my audience from 0 to 70K followers in my first 3 months on TikTok!
and i learned a lot from that experience, now i got 82.2K followers, and what i want to do is to share all the tricks i learned since my day one and help you save time and money by giving you simple, easy steps that you can apply right now and that they can get you results right away!
Who this course is for:People that are ready to get to the next level on tiktok!