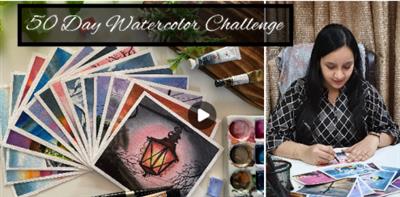 50 Day Watercolor Challenge- A Way to develop your Watercolor Skills and Develop a Daily Habit
Genre: eLearning | Language: English | .TS
Are you looking to begin your Watercolor Journey but need a little motivation to stick to it or are you someone who is looking to level up your Skills and develop a daily practice Habit?
In either case, this 50 Day Class will help you level up your game with watercolor and if you are beginner you can become a pro in watercolor with 50 Days of Daily Practice. Even if you are someone who is already working with watercolor you can join us and develop a daily Habit practice of giving in just 15-20 mins of your day to art.
For the next 50 Days we will be exploring watercolor with a different theme for every 5 Days so in total 10 different themes to paint over the coming 50 Days.
The one thing that makes watercolors the least expensive medium is the amount of supplies needed to get started, which consists of only the essentials: paints, paintbrushes, watercolor paper, a palette, and water.
Watercolors is one of the toughest mediums to achieve, its transparent streaks almost impossible to cover up and its various techniques prestigious and precise, but satisfying when accomplished.
Through every painting I will keep guiding you through all the steps, Color shades alternative and tips and tricks to work with watercolors.
So if you want to transform your Watercolor Journey come join me in this class and explore the beauty and freedom of this Medium called Watercolor . I hope to see you join me into this Journey and Lets Begin to create Magic with our Magical Wands.
Content Source:
https://www.skillshare.com/classes/50-Day-Watercolor-Challenge-A-Way-to-develop-your-Watercolor-Skills-and-Develop-a-Daily-Habit/1741287914