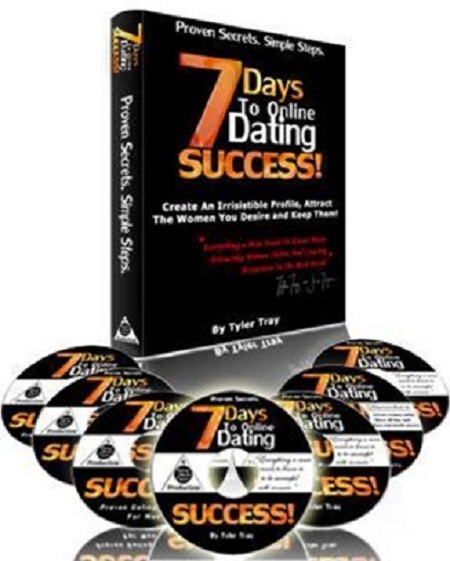 Tyler Tray – 7 Days To Online Dating Success
SIZE: 250 MB
Let me ask you something,
"When it comes to online dating, did you know that 93% of the
e‐mails sent from women go to only 7% of the men."
Are you one of the other 93% of the men not receiving
responses? Don't worry, I was once there myself.
It was at this time that I determined to organize a system for
men that would consistently produce results. It involved organizing the
ideas of what the course was going to look like and what it would need
to do. Then, for the next 11 months, I compiled revision after revision.
The goal was to create a system that was simple to follow, but produces amazing results.
After months of blood, sweat, tears and re‐vamp after re‐vamp,
it was finally finished… the perfect system for meeting women online:
"7 DAYS to ONLINE DATING SUCCESS!"
If you remember anything out of this introduction, remember this:
"Your success with women online is nothing more than a
matter of knowledge, systems and formats. And your success with
women in the real world is nothing more than a bunch of triggers that
any man can learn and set off. This course will walk you through, stepby‐
step, everything you need to know to be successful with women."
What makes this course different?
First, my experience goes beyond mastering the online dating
scene. With my past experience as a real‐world dating coach and
revolutionary system to online dating, you will be professionally
coached through every step of the dating process ‐ from attracting an
avalanche of women online to creating successful face‐to‐face interactions.
Second, this course is more than just my thoughts, theories and
ideas ‐ It's a collective of research, knowledge, first‐hand experiences,
and suggestions from men just like you. You'll learn first‐hand the
proven key strategies and approaches that I personally use for online
dating and attraction. Prepare to be blown away!
Third, the steps are simple. This course shows you how to
approach online dating in a structured format that is easy to digest. I've
broken the online dating world down into 7 very simple days which take
you through, step‐by‐step, proven strategies and formats that are
guaranteed to bring you the success you have always wanted with women.
Fourth, I'm not here to change you. This course doesn't turn
you into a different person that you don't want to be. But rather, it
serves as a guide to making the person you are more successful. There
are a number of dating gurus that are trying to change your whole
personality, and it's likely a lot of their stuff works. I've learned,
however, that there is more than one way and style to creating
attraction. Meaning, if you are a nice guy, a jerk, or whatever, it's fine.
You'll learn how to be confident in the person you are and what it will take to attract women.
As you go through this course, it's highly recommended that you
take notes. On average, you only retain 22% of what you read. By
writing, saying and practicing the techniques, you can dramatically
increase your success and your retention of the information.
I'd love to hear your comments and questions as you're going
through the course or after you have finished. I will literally be your
teacher and coach in the process of gaining success in this new world of dating.
Email: [email protected]
Are you gaining your desired success with women online?
If not, then it's key that you apply this information. If you are
already experiencing some good results with women online, then this
course will give you the strategies that will multiply your success with new perspectives.
Just remember to complete every stage, do not stop halfway through.
This course is a 7‐day process. It's been reduced down to the
shortest amount of time possible. Although it's ideal to complete this
7‐day process in exactly seven days, I realize it may not be possible due
to time restraints. Some of the challenges and lessons might take 2‐3
days to complete because of the time it takes to acquire responses and
ratings. Go through at a pace that fits your needs and don't rush
anything that requires more time.
Ok, now that we're on the same page, let's get going!
Screenshots