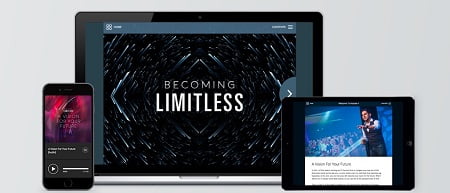 Become Limitless with Vishen Lakhiani | 8.86 GB
The Becoming Limitless program takes you on a step-by-step journey, using Vishen Lakhiani's powerful teaching framework, into Stage 3 Consciousness – so you can rise above your limiting models of reality, and discover your infinite potential in every area of life.
This framework is so powerful in delivering life-changing results that it quickly earned the highest ever customer rating for a product on Mindvalley Academy, with thousands of raving case studies.
The ideas presented in this program got Vishen one of the biggest book deals of 2016: The Code Of The Extraordinary Mind, which went on to become a New York Times bestseller. They put Vishen on stage with the Dalai Lama where he won the best speaker. And they have allowed Vishen, against all odds, to turn his $700 startup capital into a $100 million dollar education company with teachers like Neale Donald Walsch, Robin Sharma, Alan Watts, and many more.
It's a classic case of Bending Reality.
Many of us believe that only certain people have a mystical power to shape the world according to their thoughts, to know the right decisions to make, and to instantly feel what's true for them.
But what you'll discover in this program is a consciousness ascension system that's so simple anyone can apply to step into the next stage of their conscious evolution.
1. See Your Mission With Crystal Clarity
Why are you here? How will you make an impact? One of the greatest challenges we all face is to find our mission. Becoming Limitless guides you through eye-opening exercises for gaining the clarity and certainty you need to know and honor your unique purpose.
2. Shift Reality Even in Your Dreams
Some of the techniques you'll discover in Becoming Limitless, such as the Delta Doorway, will teach you how to tap into higher guidance while at the 'near-sleep' Delta levels of mind. Using this technique will allow you to shift reality, even as your conscious mind rests.
3. Experience Life Very, Very Differently
Imagine waking up excited every day, eager to get started with your work, and loving every second of it. Yes, there will be challenging times, but when you are doing something you truly love, it's all worth it. You will never want to do something else.
4. Watch Even Your Biggest Goals Come True
Traditional goal setting only lets you set goals as big as you can imagine. But when you learn to operate from inspiration, you will achieve and experience things beyond your wildest imagination. It's as though you're tapped into a higher power that guides you.
5. Make the Right Decisions in a Snap
Your intuition is your greatest guide. Becoming Limitless shows you how to tap into it so that you can make better decisions and always stay true to your purpose. You'll find yourself luckier, wiser and moving toward your vision faster than you ever thought possible.
6. Find Yourself Free and Grounded in the Present
BWe're all silently suffering from past wounds buried deep within our beings. In the second module of Becoming Limitless, you'll learn a powerful, scientifically validated technique to liberate yourself from these wounds, and feel lighter and more free than ever.
7. You'll Enjoy Total Fulfillment with Zero Regrets
Becoming Limitless empowers you to feel more tapped in to life, and more alive. You'll become more compassionate and get less irritated. You'll begin noticing synchronicities and coincidences that make you feel the universe itself is on your side. You'll feel limitless.
Screenshots