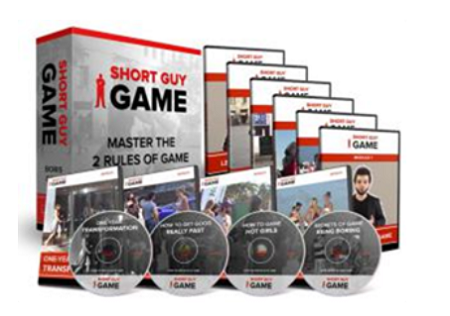 Boris Gotz – Short Guy Game | 2.79 GB
This program is designed for short guys by a short guy. It aims to help short men with their insecurities with women.
It intends to show you the importance of focusing on your character and how you carry yourself compared to your looks or height.
Bonuses include:
– One-Year Transformation
– How to Get Good, Really Fast
– How to Game Hot Girls
Table of Contents/ List of Topics Covered:
Module 1: Foundation of Game
– The pickup paradox and how it affects your game
– Rules and tools to deal with women's challenges
– Facing reality to get what you want out of life
– What women respond to and how society views men
– Why looks matter and what you can do
Module 2: The 2 Rules of Game
– What Boris learned at the age of 10 that is the reason he good with women
– 2 rules of game for dating hot women
– 3 key insights to help overcome approach anxiety
– Dealing with rejections with Rule 1
– Tackling girl challenges with Rule 2
Module 3: Body Language & Vocal Control
– Avoiding three key body language mistakes
– Body postures and movements women respond to
– Ways to project massive confidence
– Four components of vocal control
– Common conversation mistakes to be avoided with women
Module 4: How to Talk Endlessly
– How to always know what to say
– Mistakes when talking to a women you barely know
– Important insights about the first 10 minutes of pickup
– The importance of vibe and achieving it
– Ways to keep a conversation fun and memorable to minimize flaking
Module 5: How to Deal with Challenges
– Mistakes to avoid when dealing with cold approach pickup challenges
– Maneuvering around a woman's resistance
– Three approaches to effectively deal with a woman's challenges
– The real challenge of pickup and overcoming it
– Taking your game to the next level
Module 6: Lessons of Game
– The two phases of success with women and achieving success with them
– Prioritizing your focus and actions to progress
– The power of visualization and applying it to your game
– Creating the path to success through projection
What You Get:
Online access to:
– 3 hours of content about game
– 6 modules of fundamentals
– Infield demonstration clips
Screenshots