Complete Sum Faht Open Your Heart Meditation & Qigong Course by Tiffany Lynch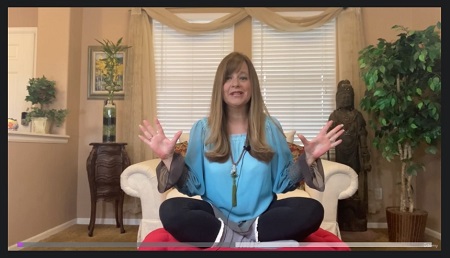 Complete Sum Faht Open Your Heart Meditation & Qigong Course by Tiffany Lynch
Published 10/2022
MP4 | Video: h264, 1280×720 | Audio: AAC, 44.1 KHz, 2 Ch
Genre: eLearning | Language: English | Duration: 47 lectures (6h 4m) | Size: 6.2 GB
This is a complete ancient Healing Package on Meditation & Qigong which we activate the divine energies of the heart
What you'll learn
The Complete Healing Effects of Both Meditation & Qigong
The Benefits of Qigong for Your Overall Health & Well Being
A Meditation Practice for Taming the Mind from negative thinking, anxiety & depression
An Ancient Mudra Meditation Routine that calms the mind and aligns the chakras.
The Power of Self-Reflection and working with the chakras
The healing affects of the Ancient Taoist Dan tian energy elixir
You will learn about Taoism & The 8 Branches of Chinese Medicine.
The fundamentals of Breathwork and the healing effects
Live Demonstrations of Qigong, Brocades & Tai Chi
You will learn the 5 Element Theory
Certain acupressure points in the body
You will learn about the Ego, the Higher Self
You will learn about Yin & Yang and the flow of energy in this Universe
Included is guided meditations for maximum healing.
There is a 30 day Meditation and Chakra Cleanse to heal old patterns
Requirements
An open heart and mind
A desire to heal the body
A willingness to learn about your body, mind & emotions
A desire to know the truth about yourself and to look within
Anyone curious about Taoism and the flow of energy inside all of us
Have access to the internet
Be able to watch & listen to video tutorials
Description
This is a complete healing course on the power of both Meditation and Qigong! Rooted in the 8 Branches of Chinese Medicine.
The First Branch of Chinese Medicine is Meditation.
Sum Faht Meditation is way out of negative thinking, anxiety, depression, while developing your intuition & creating a path to your higher self. I will teach you, how to unravel life-long patterns stored in your body through meditation. We are responsible for our own healing and well-being, and in the course I will show you how you can create maximum healing for yourself through meditation and understanding the Ancient Taoist Dan Tian energy elixir.
Exercise Is The Second Branch of Chinese Medicine: These ancient exercises (Qigong, Tai Chi & 12 Brocades) benefit our body, mind, and spirit, by strengthening muscles, opening chakras, creating balance, building the bones to deepen the breath, and circulating chi and blood.
I will show you how you can create maximum healing for yourself through Meditation, Qigong, Tai Chi, Breathwork, plus understanding the Ancient Taoist Dan Tian energy elixir. This is a life-changing transformational energy elixir called The Dan Tian that the Chinese have used in the 8 branches of Chinese Medicine for thousands of years. When you learn to tap into your own energy field it can penetrate and help you heal things physically, emotionally, it can unravel layers of pain, anxiety, and fear that are creating limitations in your life. You replace this with new feelings of love, compassion, connection, freedom, and healing possibilities on all levels.
Do You Want to be Healthy Inside and Outside? Do you want to balance & heal your body? In this course, you will learn to align your energies & maximize the healing power inside Mind, Body & Spirit. Let's take the healing journey together.
Sum Faht is a form of meditation, Qigong, Tai Chi and energy work in which we activate the divine energies of the heart. The name comes from the Cantonese phrase "soi sum peen fah faht," which loosely translated means whatever the heart desires will manifest. When we mediate, connect to our dan tain we are seeking purification through the blending of our personal energy with the energy of the Universe and through the circulation of spiritual energy through our physical bodies. The spiritual energy cannot communicate directly with our physical bodies, nor can it communicate with our egos, our intellects, or our rational minds. It must communicate with our Inner Selves — our own spiritual aspects — our hearts. If you are looking to balance the mind, body, & spirit.
Who this course is for
It's a great course for beginners to advanced meditators
It's a great course for beginners to advanced Qigong or Tai Chi Students
Anyone curious about Taoism and the flow of energy inside all of us
Homepage
https://www.udemy.com/course/complete-sum-faht-open-your-heart-meditation-qigong-course/
Screenshots