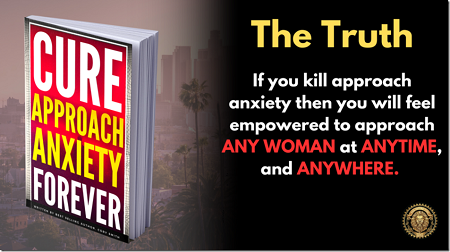 Cure Approach Anxiety Training Program | 3.34 GB
Cure Approach Anxiety Training Program
– Do you imagine yourself with a certain woman but you simply don't have the courage to approach her?
– Does the thought of starting a conversation with an attractive woman terrify you?
– Do you want to become cool and collected and to confidently approach any woman, no matter how hot she is?
Do you know how some guys are just natural when they approach women? What they say, how they act, it all seems so effortless and relaxed that you can easily think you can do it too. until you actually try. What happens to you? You freeze. You use the same catchphrase your friend used but the effect wasn't what you expected.
Or does the mere thought of approaching a woman makes you sweat?
You see, with your current attitude you can do exactly what you saw someone else doing and still completely miss the point. Your mindset simply isn't in accordance with this behavior and you can't make it look natural – because it isn't.
The only way to really make it natural and to make a woman react to you in a positive way is to change the way you feel about approaching women and adopting the mindset of a confident Alpha Male who goes after what he wants.
Introducing the "Cure Approach Anxiety Training Program" a program – a comprehensive, step-by-step program designed to help men overcome their approach anxiety and build confidence when approaching women. This program has been developed by a team of experts who have helped countless men to overcome their fears and find success in their dating lives.
With the "Cure Approach Anxiety Training Program", you'll learn:
– The root causes of approach anxiety and how to identify them
– Proven techniques for overcoming anxiety and building confidence
– A system to be able to approach women in ANY SITUATION, and at ANYTIME,
– Field Tested Techniques
By listening to the training program, you will cure yourself of approach anxiety forever.
Homepage:
https://pua-dating-tips.gumroad.com/l/Cure?layout=profile
Screenshots