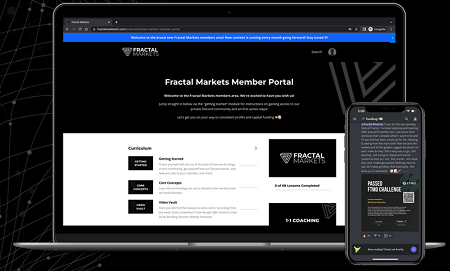 Fractal Markets | 25,4 GB
Welcome to Fractal Markets,
where we believe that trading can be a fulfilling and life-changing pursuit.
I'm Tyson, and I know firsthand what it's like to feel stuck in a job that's not satisfying and to dream of a better way to earn a living.
A few years ago, I was where you are now. I knew about trading and wanted to be good at it, but it just wasn't clicking for me yet. I struggled for a while, learning from different mentors and taking breaks when I got frustrated. But I knew deep down that I wanted to commit "all in" to trading and make it my life's work.
Finally, after months of dedication and refinement, I achieved the consistency I was looking for. It was a turning point in my life. I was able to quit my job as an electrician and double down on trading.
Through intimate masterclasses, I began to teach others how to achieve the same life-altering returns I had experienced. The response was incredible, and I knew I wanted to help even more traders.
That's why I launched this Premium Community in March 2022. My goal was to blend the best elements of a course and a community while maintaining the tight-knit vibe of a masterclass cohort. I designed this program with your learning in mind. It's not full of arbitrary content or coaches with slightly different spins on things. It's everything you need to know, nothing more and nothing less, to learn the strategy and stay on top of your trading.
Become a Funded Trader Within 12 Months
Discover exactly how we interpret the markets using such concepts as structure, supply & demand, orderflow, liquidity, and more.
Homepage:
https://www.fractalmarketsfx.com/
Screenshots