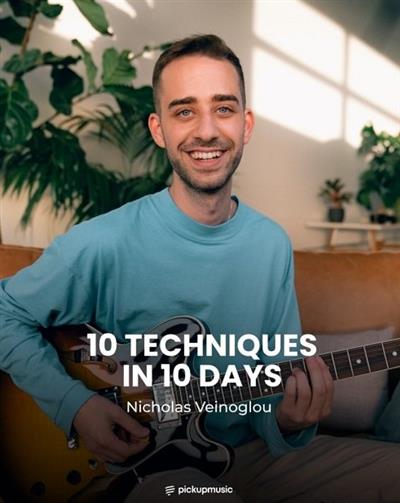 Nicholas Veinoglou – Pickup Music 10 Techniques in 10 Days
Genre: eLearning | Language: English
Nicholas Veinoglou is a swiss army knife guitarist – from rock and R&B to classical and jazz, he's a jaw-dropping player who's as comfortable playing "in the pocket" as he is shredding solos. It's no wonder he's the go-to sideman for massive LA pop artists.
Over the next 10 days, Nicholas will walk you through the techniques that he uses most in his playing. They're not specific to any genre, so you can spice up your playing no matter which style you prefer.
This is a great way to find new inspiration on the guitar if you're feeling stagnant in your playing.
Here's what you'll work on
•How to add movement to your chord progressions
•Music theory made easy to improve your songwriting skills
•Fundamental techniques like hybrid picking and flamenco tremolo
•"Seasoning" techniques to decorate your playing like waterfall harmonics, chord quakes, and open-string applications
•Tips to make your playing more dynamic
Meet your mentor
Nicholas Veinoglou is an Los Angeles-based touring guitarist, songwriter, and music director who has taught hundreds of students how to develop their own sound and master the basics of neo-soul, jazz, and R&B guitar. Nicholas holds a Bachelor's Degree in Jazz Guitar Performance with a minor in Harmony from the Berklee College of Music. As a touring guitarist, he plays with Jordan Fisher and Atlantic Records recording artist Bazzi.
Who is this class for?
This class is for anyone who's feeling stagnant in their playing but doesn't know what to learn next. From practical music theory made simple to quickstarts for advanced techniques, there's a little bit of everything in this technique sampler-style course.
The lessons within are best suited for intermediate and advanced guitarists. However, each section varies in difficulty and prerequisite knowledge, so beginners will still benefit from skimming through the class and learning some of the more fundamental techniques! If you're an advanced guitarist, Nicholas will challenge you throughout the class with complex etudes and technical exercises.
What do I need to know before starting this class?
You don't need to know much about R&B or neo soul to benefit from this class. However, to get the most out of the following lessons, you'll need to have some basic theory under your belt.
At a minimum, you should know an intermediate-level of:
•open and moveable chord shapes
•basic embellishments (like hammer-ons and pull-offs)
•common blues and rock progressions
•the numbers system
Knowing major scale modes will be helpful, but you don't need to know melodic minor modes. You also don't need to complete Nicholas' first Master Class in order to take this course.
We're with you, every step of the way.
You'll take this class alongside our international community of Pickup Music members. With unlimited learning support from our team of master's-level educators, we're here to answer your questions and provide unlimited guidance as you progress through your guitar journey.
Ready to level up?
Let's get started!