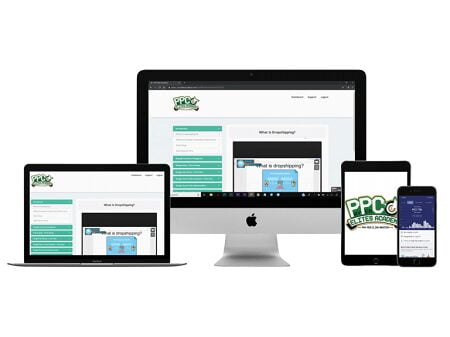 PPC Elites Academy with Arty Hernandez | 4.31 GB
The EXACT Strategies I Used To Scale My Shopify Store To $5,760 Per Day On Auto-Pilot AND How You Can Do It From Scratch.
Imagine.
You wake up to the most beautiful sound ever. your alarm.
Rather than groaning and hitting the snooze button, you jump out of bed and check your Shopify store. excited to look at the money you made last night.
Because you know that you no longer have to rely on Facebook.
No guessing with traffic that doesn't even want to buy.
No dealing with cold traffic.
No need to even work with crazy retargeting just to make it work.
You simply hum your way to the couch and check your Google Ads account.
I'll prove to you anyone can take part in this Shopify goldmine – from plumbers to rug salesmen, truck drivers, farmers, stay-at-home moms, retirees, bank clerks, stewardesses, welders, burger flippers, hairdressers, doctors and more – and make your Shopify wealth from home.
Introducing PPC Elites Academy
PPC Elites Academy
60 – Video Training Program
Proven 6 & 7 Figure Strategies
Step-By-Step & Beginner Friendly
Lifetime Access & Evergreen Content
Private Community – 24/7 Support
60 – In-Depth Guides & Case Studies ($3,997 Value)
You will learn how to create a very high converting store, which is essential for selling on Google. How to find explosive 6 and 7 figure winning products to sell & how to validate the products to ensure the highest possibility of success. How to optimize all of your campaigns for the highest profit margins possible.
And much more.
PPC Elites Academy is an online program that will allow you to fully master e-commerce, with in-depth teaching on Google Ads.
Why Google Ads and not Facebook?
Simple. Facebook is a social platform. Not a single individual goes on Facebook to find products to buy. They are there to connect with others, and your ads are a nuisance to them. On the other hand, people specifically search on Google for products, with the intent to buy.
Simply put, Facebook = Cold Traffic and Google = Scorching hot traffic with buyers intent.
The step-by-step training will give you the necessary tools you need to reach your first $100 day within 30 Days and become a PPC Elite, regardless of your technical skills or any previous experience in
e-commerce.
Screenshots