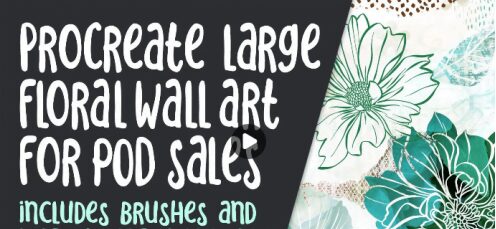 Procreate Large Floral Wall Art for POD Sales – 10 Brushes Included and Instructions to Make More
Genre: eLearning | Language: English | MP4
Welcome to 
Procreate Large Floral Wall Art for POD Sales
! Special thanks to many of you who have been attending my other Procreate Brush Classes, 
Watercolour Floral Abstracts with Procreate
, 
Simple Brushes in Procreate for Quick Compositions, 
and
 Fantasy Gardens in Procreate.  
If that includes you, I know you've learned plenty about custom Procreate brushes, but you know I always have more to share with you! And this class takes it one step further by helping you prepare the art and then post it on a POD site like Society6. I will take you along through my process to teach you some of my illustration and wall art design methodology, and ways to use brushes to create a series for sale on POD sites, or possibly for art licensing, which is what I use it for. In the class, I take you from start to finish in creating a full-sized art piece, using line art flower brushes I have created, as well as a realistic watercolour background. Throughout the class, I talk about inspiration and trying to find your unique niche in the "bold floral art" category. And, I have techniques and advice to save the art in many iterations as needed for the different proportions on POD sites. I use this method to be sure we put our best foot forward with the art, so it is very important that you'll be creating completely editable and layered art.
https://www.skillshare.com/classes/Procreate-Large-Floral-Wall-Art-for-POD-Sales-10-Brushes-Included-and-Instructions-to-Make-More/1181161242