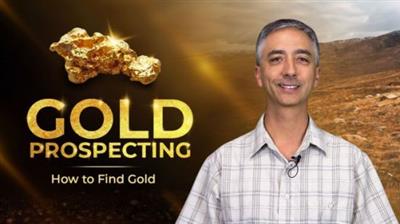 MP4 | Video: h264, 1280×720 | Audio: AAC, 44.1 KHz
Language: English | Size: 667 MB | Duration: 44m
Learn the concepts, basics, and tools of what it takes to prospect for gold. Finding gold buried in the ground is one of the most exciting experiences. Seeing the sun glint off gold in a pan will make you excited to find more.
There is a lot to learn and this class shares the techniques, tricks, and secrets of professional gold prospectors. Each tool is covered and you will see several in action. Understanding the preparation process is covered as well. This class teaches what you need to do before you ever leave home and travel into the field.
In this class, you will learn:
Where to look for gold
How to safely explore and prospect the wilderness
What tools are needed
The clothing that you will need
Planning and preparation
Learn to gold prospect from the pros
This course will take you into the world of professional miners and gold prospectors. Instead of wandering around the Internet, this class has everything you need to get started. You will even see the entire material collection and panning process. And, at the end, you will see real gold in a gold pan.
Follow Matt Stokes into the field and learn how he works. You'll be able to better understand the nuances of gold prospecting and the expected work level. Finding gold isn't easy but when you do, it really pays off.
Designed for beginners who want to find gold
This is for aspiring gold prospectors who are looking for their first find. Panning out a bucket of dirt and finding real, natural gold is as exciting as it gets. The teachers in the class will show you what it takes to actually find gold on your own.
Homepage
https://www.skillshare.com/classes/Gold-Prospecting-How-to-Find-Gold/369619968