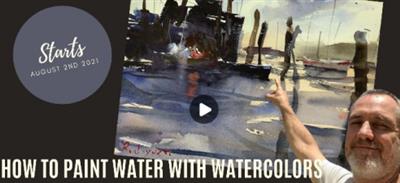 Skillshare – How To Paint Water With Watercolor
Hi, and welcome to How To Paint Water With Watercolors.
Genre: eLearning | Language: English
This is an ongoing class that starts August 2nd and will end August 27th.
New lessons are published Mon-Fri and I will point a new discussion everyday that covers what we will be learning along with demo images and ant resources you may need.
You should receive an email notification as soon as I publish each discussion.
Please note that images aren't visible in the Skillsahre App. I recommend you use desktop or laptop along with a Browser to see images within discussions.

In this class we will dive deep into paint various water elements such as;



The lessons will start with the very basic water painting techniques and from there we will build upon them with more advanced ideas.
Who should take this class?
Any watercolorist that wants an in-depth class for paint water elements. Beginners are welcome but know we will get into more advanced techniques as the class moves forward. Take this class only if you are serious and motivated to paint awesome watercolor landscapes with water features.
What you will love about this class
This class features detailed demos for each water element
Then we will look at the Masters (Hawthhorn, Seago, Wesson, etc) to see how they may have used these ideas plus some of their own to paint wonderful landscapes with water features
Then we will use real photos of with water elements and decide which techniques we would use to paint it
Then we will paint each of the water photos based on our approach and ideas
Critiques will be offered to those that submit projects (three total critique checkpoints)
Then Robert, the teacher, will complete the same assignments as you so that you can compare your ideas and art with his

Content Source:

https://www.skillshare.com/classes/How-To-Paint-Water-With-Watercolor/1966398197