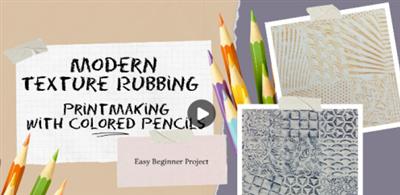 Skillshare – Modern Texture Rubbings – Easy Printmaking for Beginners
Genre: eLearning | Language: English | .TS
Explore your creativity and expand your printmaking skills with these step-by-step texture rubbing techniques! We'll be focusing on modern layouts and color schemes that you can achieve with simple supplies – this is part of what makes printmaking so accessible!
I am a Printmaker, Painter and Art Educator with over 20 years of experience and I want to share my love of creating with you!
This class is appropriate for beginners and a great throwback for advanced artists.  Texture Rubbing is one of the earliest forms of printmaking!
Each of these artworks will be a monoprint.  Monoprinting is a form of printmaking that has lines or images that can only be made once, unlike most printmaking, where there are multiple originals.
In the first instructional video – I will show you how to make and create your own rubbing or texture plates.  Then we will practice together to find the color choices and textures that we like the most.  We will then do some measuring to layout equal sections on our papers (I know some are leery of measuring, but don't worry I will make it simple for you!).  Then on to creating 3 different sized artworks, a bonus piece and signing and matting your artwork!
Content Source:
https://www.skillshare.com/classes/Modern-Texture-Rubbings-Easy-Printmaking-for-Beginners/933750409