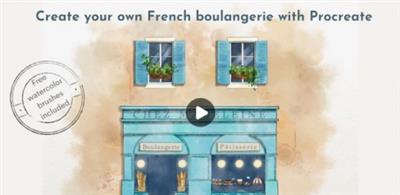 Skillshare – Paint your French boulangerie with Procreate, watercolor style
Genre: eLearning | Language: English
I will show you how to design and paint your own French boulangerie. This class is for all levels, including beginners, as I'll be detailing step by step all the process in Procreate.
First, we will look for inspiration in a Pinterest board I gathered for you
https://pin.it/3LpWVKs
. You'll find front stores images, windows, bread and pastries. all you need to create a mood board. You'll get together images to create your own composition: colors, structures, details, showcase.
Then we'll make a rough sketch where we decide the structure of the drawing: windows, doors, details, horizontal or vertical, textures, overall effect.
From this sketch we'll make a detailed drawing and I'll show you how to simplify the process.
Then it's time for the color! Free watercolor brushes are included in class, you can follow instructions in the third video to know how to download them.
We'll be using lasso tool, clipping masks and more. All techniques you'll be able to use in your future art.
Content Source:
https://www.skillshare.com/classes/Paint-your-French-boulangerie-with-Procreate-watercolor-style/1883259703