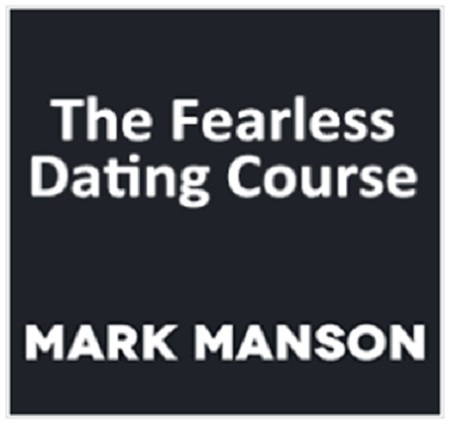 Mark Manson – The Fearless Dating Course
SIZE: 1,2 GB
"Practical Blueprint To Overcoming Your Anxiety Of Approaching And Sexually Escalating With Women"
Gives a great insight into the kind of healthy mindsets and beliefs that will lead to long term success. Lays out a step by step plan for you to follow designed to get you over your fear of approaching women directly and developing sexual relationships with them.
The Fearless Dating Course is built upon the same principles, and is designed to be more of a practical blueprint to achieve that success. The way it works is there are six video lessons that you need to watch in order, and after you complete them you have the choice of going onto either the approaching module or the sexuality module. For most guys, it'll be a good idea to start with the approach module. However if you feel confident cold approaching women and already have plenty of experience with this, you might want to skip ahead to the sexuality module.
You'll be asked to complete an exercise at the end of each lesson throughout the course before you move on to the next lesson. Sometimes it'll be something you can complete then and there, such as writing down your goals for the course, but as it gets to the more practical lessons you'll need to go out and interact with women to complete the exercises.
Vulnerability
The idea of vulnerability is an interesting topic and one that gets mentioned in the dating advice industry fairly frequently. It first got thrown about by some of the old school pickup artists as a tactic to make you seem more real and attainable to women. The idea was that you would spend so much time demonstrating higher value to a woman that you would need to show her aspects of yourself that displayed some vulnerability so that you appeared more real and genuine. This was kind of an oxymoron though, with guys learning routines to try and appear more genuine.
The context with which Mark discusses vulnerability here though is completely different. He talks about it as the complete opposite of performance, as a willingness to be completely genuine and risk getting rejected. But that by being comfortable with the idea of getting rejected, people are actually less likely to reject you.
He covers three types of vulnerability that you can use in a practical way. Some of these ideas might be a bit confronting for you to face up to, because it means looking at your insecurities. But the advice here is that the best way to get past your insecurities is to be able to share any aspect about yourself with anybody at any time.
If you can be honest with yourself about your insecurities, you'll be in a better position to deal with them. Mark talks about how he still gets nervous when meeting attractive women, but he has come to accept it as part of who he is. And by doing this, it's made dealing with this issue ten times easier.
The Approach Module
The important thing to realize with this program is that Mark isn't teaching any quick fixes or easy solutions. His program is based on cognitive behavioral therapy, which he says is based on two aspects:
1) Questioning your beliefs and assumptions
2) Going out and taking action to change your perspective
So the way this program is designed you'll be taking incremental steps to slowly increase your comfort zone. Apparently research has proven that consistent, low intensity action is better than jumping in at the deep end. So rather than have you going out and approaching a whole heap of women right from the start, you'll begin with exercises that are fairly straightforward and you should be able to accomplish without too much anxiety. As you progress, the exercises will become increasingly challenging and you'll likely face more anxiety, but by taking action you'll learn how to cope with it.
It's worth noting that if you suffer from extreme social anxiety you'll likely have trouble progressing through the course. Mark talks about this briefly, and suggests that if this is an issue for you that you'd be better off consulting a professional trained specifically to deal with this. If you find the first exercise terrifying, then you should consider the fact that social anxiety might be an issue you have. But if you're reasonably comfortable doing these early exercises and only start feeling anxious at the thought of talking to attractive women, then social anxiety isn't your problem.
The other thing to note is that if you're already somewhat experienced then you may find many of the exercises far too easy and not worth your time. The pinnacle of the approach model involves being able to approach a woman directly and get her phone number. So if this is something you're already able to do on a consistent basis, you'll likely find no practical value in this part of the course.
So while some of the earlier exercises involve just having a casual conversation with people, by the end of it you will need to approach in a direct manner and show your intent. Because it's going to feel like a higher pressure exercise, most guys will feel more anxiety about this, but the benefit is it's a great way to increase your confidence and you'll feel better for having done it. Mark gives you a really simple direct opener you can use, and you can use it to pretty much approach girls in any situation.
If you're used to approaching women in a more indirect fashion, then this will be a good introduction on how to become more direct and genuine. There are times when an indirect approach is more advisable, such as if a girl is with other people and approaching directly will put too much social pressure on her, but the purpose of this course is to get over your fear. So really make sure you commit to doing the direct approaches the way Mark describes, as this will give you the best results in boosting your confidence.
The Sexuality Module
This part of the course is all about learning to overcome any anxiety you may feel at taking things in a sexual direction with women. Because even though you may get to the stage where you can cold approach women and get their phone number, if you don't sexually escalate at some point then you're never going to get anywhere.
Mark goes into a lot of detail about sexual shame, something that many men feel in varying degrees. Especially if you grew up in a religious or conservative family, chances are at some point you were told that sex is wrong or shameful and something that needs to be kept hidden. If you have any of these underlying beliefs then it's going to be much more difficult for you to have healthy relationships with women, so this module is aimed at getting you more comfortable expressing your sexuality.
Similarly to the approach module, the exercises here start out quite easy and get progressively more challenging. If you're already at an intermediate to advanced level, you probably won't find the exercises that useful. But if you're able to approach women and your sticking point is that your interactions are very friendly and lacking a sexual dynamic, there is some solid information here.
One of the better lessons here is #4 'Happiness as our metric'. It's focused on getting you to turn away from arbitrary external goals such as getting laid, getting phone numbers etc. and trying to get you in touch with what's going to make you happy. Some guys start learning dating skills without really knowing what they want, so when they reach a certain level of what they think is success, it's not really that satisfying for them. So here Mark has you work on defining your values and boundaries, so that you'll be better equipped to have relationships with the kind of girls who will make you happy. By having a set of values and boundaries that you adhere to, women will also tend to find you more attractive.
Bonuses
There's a few bonuses as well included with The Fearless Dating Course. One of them is a video of a presentation that Mark gave at a seminar in Zurich, and is an overview of a lot of the main ideas that he teaches. He shares some interesting stories and it's well worth a listen. There's also an audio presentation of how to succeed in online dating. It's all quite basic advice, but the ideas are solid and will be helpful if you haven't had a lot of success in this area.
There's a PDF report called Take Action Today, which is pretty much a summary of Mark's ideas on fear and how it holds us back from getting what we want. Not really any new content from the main part of the course but it helps to provide some extra motivation after reading it. Also included are a couple of hypnosis/ meditation sessions with a guy called Mark David Fourman who is an expert in this area. They are titled Transform Your Fear and Transform Your Shame, and they are interesting to listen to and provide some quality value to the course.
The Bottom Line
This is a great course for guys who want to improve their success with women by being authentic and genuine. There aren't a lot of techniques or tactics taught here, it's more about taking the steps necessary to develop your confidence so that you can approach women despite any anxiety you may feel.
The two components of the course are on approaching and sexuality, and getting past your fear of both. These are two of the biggest areas that cause anxiety and hold men back from real success with women, so if you have issues with either of these then this course is well worth checking out.
Screenshots