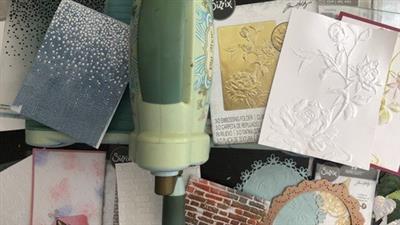 MP4 | Video: h264, 1280×720 | Audio: AAC, 44.1 KHz
Language: English | Size: 1.20 GB | Duration: 56m
What you'll learn
Learn die cutting and embossing Tips, Tricks, Techniques and Troubleshooting for using your Big Shot Machine
This is the perfect course for anyone who is new to using a big shot machine or has ever wondered how to use a big shot machine
Requirements
Students should either already have a big shot machine and some dies and embossing folders or be planning to get them.
Description
If you are new to die cutting or embossing on a big shot machine, or have been thinking about getting one and are wondering how you would use it, this course is for you!
I will be teaching the basics of using your Big Shot Machine as well as different tips, tricks and techniques that you can use. I also share some trouble shooting tips for certain scenarios using your machine. This course focuses on the Big Shot machine but the information applies to the Big Shot plus and the Big Shot Pro as well. Many of the tips and tricks can be used in other die cutting machines as well but you would need to figure out the "sandwich" used in your particular machine as I do not own others.
This is a class that I have taught several times over the years in my past 15 years of teaching in scrapbooking stores. It has been updated and adapted to cover the most current information.
This course is broken down into these sections:
Your Machine and plates
Using steel rule dies
Using Wafer dies
Using embossing folders
***Disclaimer***
When using your machine, if the "sandwich" feels to tight and you need to use a LOT of effort to roll it through your machine, STOP and double check your stacking to make sure you don't accidentally have an extra plate or layer in there. If the stacking isn't correct and is too thick for the machine you can break it.
Who this course is for:
Beginners to die cutting and embossing using a Big Shot machine that want to ease the intimidation of using it.
Homepage
https://www.udemy.com/course/big-shot-for-beginners/